On the shoulders of a giant: a tribute to Walter Wearmouth
COFFEE WITH WARREN, with Warren Harbeck
Cochrane Eagle, June 23, 2016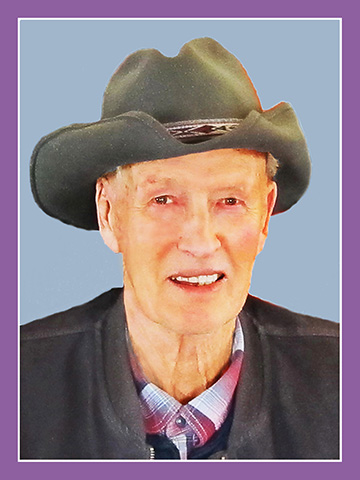 Walter Wearmouth, 1925–2016, dairy and beef farmer and giant among human beings. Photo by Warren Harbeck
There's an old saying that speaks of "standing on the shoulders of giants." Well, there's a giant in my own life on whose shoulders I've stood and experienced a truly beautiful view of life.
The 17th century English physicist and mathematician Isaac Newton famously and humbly declared, "If I have seen further, it is by standing on the shoulders of giants." Renowned theoretical physicist Stephen Hawking even drew on that saying for the title of his 2002 book, On the Shoulders of Giants: The Great Works of Physics and Astronomy.
The point, of course, is that we build on the insights and achievements of those who have gone before us. Technologically, none of us has to reinvent the wheel just so we can drive a car to work or the shopping mall. None of us has to reinvent pasteurization just so we can enjoy a safe ice cream cone on a hot summer day.
And none of us has to reinvent all the life skills that have made our growing foothills town such a wonderful, friendly community in which to live.
As in science and technology, so in life, we learn from those who have gone before us in order to build an even better life for our own and future generations.
We, too, stand on the shoulders of giants.
One such community-building giant for me is Walter Wearmouth, who passed away June 5 at the age of 90.
The Cochrane-area dairy and beef farmer never invited me to a classroom lecture he could have given on milking cows, nor did he ever write a headline-grabbing textbook on cleaning barns.
For me, his classroom was our local A&W, and his textbook was his lived example.
I wrote my 2013 Father's Day column about Walter as one of the most genial people I'd ever met and a father figure to many, as I witnessed his example from my own table at the A&W. (By the way, he had his own special explanation for the chain's initials: instead of its founders, Allen and Wright, A&W stood for Angus and Walter, he'd say, referring to his lifelong friend, Angus MacKenzie.)
Although he'd typically sit at the table with fellow Cochrane old-timers, he'd seldom leave the A&W without first pausing at the tables of others he recognized. Often he'd come to the table where I was sitting with my coffee klatch, smile broadly, and warm our hearts with some of that down-home-on-the-farm neighbourliness for which he was rightly famous.
And as with his coffee companions, so with his family, too. In that column I noted the high regard his daughters Anne and Marion had for him, both of them saying how they admired his "loving, caring" relationship with both animals and people.
"His way of trying to see beyond the outside to what is going on inside enables him to really absorb and understand what people are talking about," Marion said. "He honours and respects everybody's point of view, whether he agrees with them or not."
Anne put it this way at his June 10 Memorial Service: "Dad loved his family, farming, his friends and community, the mountains and life."
If I were to put into one phrase the legacy he blessed me with by his example, it would have to be the beauty of a listening heart characterized by honesty, respect and decency.
Walter may not have written any scholarly textbooks, but he certainly loved to write poetry.
In his poem that appeared on his Memorial Service programs, he drew from his love for the outdoors and the people encountered along the way. While climbing life's steep hills, "keep your sights ahead to the top so high," he said, but "don't step on anyone as you go by."
Yes, because I've had the privilege of standing on the shoulders of this giant named Walter, I've been able to embrace the vista of the whole Bow Valley alive with vision, love and hope.
© 2016 Warren Harbeck
JoinMe@coffeewithwarren.com