Father's Day tribute to Walter Wearmouth: a success story
COFFEE WITH WARREN, with Warren Harbeck
Cochrane Eagle, June 12, 2013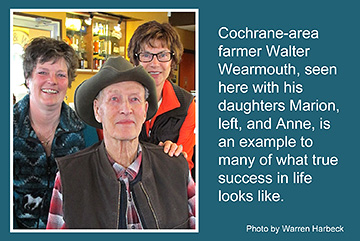 One of the happiest people I've ever met is often at our local A&W when I'm making my morning rounds, and I'm not alone in my admiration for someone who is a father-figure to many in our community.
Walter Wearmouth, an 87-year-old retired dairy and beef farmer, is certainly a favourite among the A&W staff and patrons. As proprietor Mike Bigland recalls, one of his staff once asked Walter, "Why are you always so happy?"
Walter's response? "I learned a long time ago that, if it wanted to rain, I'd let it!"
Yes, happy, contented – and always friendly.
Although he typically sits at the table with fellow Cochrane old-timers, he seldom leaves the A&W without first pausing at the tables of others he recognizes. Often he comes to the table where I'm sitting with my coffee klatch, smiles broadly, and warms our hearts with some of that down-home-on-the-farm neighbourliness for which he's rightly famous.
Walter was born and raised on the family homestead just northeast of Cochrane, one of seven children. After he and Kay were married nearly 65 years ago, they moved to a nearby spread of their own and raised their four children: Anne, Marion, Roy and Allan.
A while ago I sipped coffee with Anne and Marion at one table while Walter was visiting with his buddies at another. Little did he suspect – as far as I know – that the three of us were conspiring on this Father's Day column as a surprise tribute to him.
The two have nothing but the fondest memories of their dad's parenting skills. From their earliest years, they said, he made them feel like they were valuable members of their family farming team.
"I carried little pails of water when I was only four years old," Anne said. "This was never a job; it was part of life."
Walter was also quite a joker, Marion said, remembering Easters when she and Anne were sent out to collect eggs early in the morning, only to find there were coloured eggs in the nest!
Then there were those winter mornings covered in fresh snow. "He would call us outside to take a look at the 'rabbit tracks' in the snow," Marion recalls. "We figured out later that he had bent over and reached way far out to create these tracks with his bent fingers."
Anne and Marion especially admire their dad's "loving, caring" relationship, as with animals, so also with people.
"His way of trying to see beyond the outside to what is going on inside enables him to really absorb and understand what people are talking about," Marion explained. "He honours and respects everybody's point of view, whether he agrees with them or not."
And as one of Walter's old-timer buddies, Stu Bradley, later added: "Walter is a handshake kind of guy," a man for whom your word is your bond.
I'll give Mike Bigland the last word about a man I, too, regard as an amazing success story in this wonderful journey of life:
"Walter unknowingly mentors me and I aspire to be as good a man."
Happy Father's Day, Walter!
© 2013 Warren Harbeck
JoinMe@coffeewithwarren.com