Angus MacKenzie sketches his love for Cochrane heritage
COFFEE WITH WARREN, with Warren Harbeck
Cochrane Eagle, August 6, 2015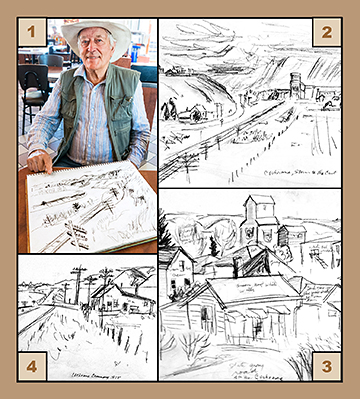 In these pencil sketches, rancher/artist Angus MacKenzie interpreted the Cochrane area when the grain elevator still pointed to the sky and the Cochrane Creamery pointed the way to the mountains. Drawings by Angus MacKenzie, photo by Warren Harbeck
Click for a larger version
Across from me at our A&W table, cattleman/artist Angus MacKenzie opened his sketchbooks from nearly 50 years ago and took me down memory lane through our fantastic foothills heritage.
Angus and his wife Jean live east of Cochrane next to Glenbow Ranch Provincial Park. There he and Jean raise red Angus cattle on the land he's called home for all his 83 years.
And how he embraces this land he's experienced by horseback, truck and foot!
Image by image, his sketches of river and valley, graceful hills and mountain panoramas, tracks and telephone poles, wildlife and livestock, and machinery and buildings in danger of being soon forgotten are nothing short of love notes.
I've included four of his sketches in the accompanying graphic.
The first image is of Angus with a sketch he made from below his home looking west along the CPR tracks and Bow River toward Cochrane. He's pointing to the tall structure near the horizon featured in the next two sketches.
He made the second drawing from west of town looking east. The tracks lead to the United Grain Growers Ltd. elevator. At the left is the small building featured in the fourth sketch. In the distance, according to Angus's note along the bottom, a storm is raging over Calgary.
The grain elevator, built in 1925, dominates the south-facing third sketch. The iconic structure, located just across the tracks from the equally iconic MacKay's Ice Cream shop, was destroyed by fire on Valentine's Day, 1981.
The final sketch, looking west from town toward Devil's Head Mountain, is of the Cochrane Creamery. Built in 1910 and moved to its location here north of the 1A Highway along Big Hill Creek in the early 1920s, it was sold to the provincial government in 1975 and demolished for the development of the Cochrane Ranche Historic Site.
Speaking of Cochrane Ranche, another work of art stands proudly on the hill above the Visitor Information Centre and surveys the same mountains and valley Angus delights in. Interestingly, the Men of Vision statue of horse and rider was created by Angus's artist brother, the late Malcolm "Mac" MacKenzie.
I asked Angus why he personally is so passionate about sketching our visual heritage.
"I just love the area," he said. "I like the view."
© 2015 Warren Harbeck
JoinMe@coffeewithwarren.com