Panel addresses purpose-filled living through imagination
COFFEE WITH WARREN, with Warren Harbeck
Cochrane Eagle, January 9, 2014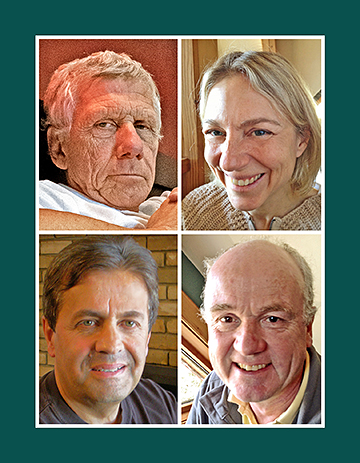 Panelists (clockwise from upper left) Jack Blair, Dara Dines, Chris Stanley and Robert Kelly will discuss "Creativity, Imagination and Passion" at the Jan. 10 meeting of Cochrane IDEAS Society. Photos by Warren Harbeck
Cochrane author David Irvine raises questions that many of us struggle with from time to time: Do we feel trapped in our profession or employment? Are we doing those things that give us meaning? Are we living at the intersection of our abilities and our passions?
It's all about being true to ourselves, the popular speaker and corporate consultant says.
"What do you do that fulfills you? What brings you deep satisfaction may or may not be found in your paid work. Whenever you discover work that you both love and are good at, count that as a blessing. Where in your life do you do what you love?"
Finding our authentic purpose in life by doing what we love? Imagine that!
David's challenge made me think immediately of four of our other imaginative coffee companions I've written about – four people who have given a lot of thought to embracing their passions in pursuit of purpose-filled authentic lives.
I mentioned this to David Sweeney and Andy Marshall, coordinators of a monthly gathering known as the Cochrane IDEAS Society. They responded by asking me to organize a panel discussion for our January meeting along this theme. The panel would consist of these four folks plus myself, as host.
What a great idea, I thought! IDEAS would be the perfect venue for bringing this discussion to the next level.
IDEAS was born 13 years ago out of a suggestion by another of our readers, Brooks Tower, that I open up our amazing coffee chats to a larger group from time to time. David Sweeney and Andy Marshall assumed the leadership a few years later and have been doing an outstanding job getting Cochrane-area folks to think about all kinds of issues of importance to us. And most certainly that includes this proposal for a panel discussion.
I approached the four about participating and they agreed. Here, then, are the four panelists:
Jack Blair lives in Cochrane and presently defines himself as an "artisan of words and images" – www.jackblair.ca. Over the years he has applied himself passionately to everything he undertakes, from engineering to athletics, and now to writing and photography. I wrote my column of July 13, 2011 on Jack's celebration of the importance of listening, as with lens, so with people.
Dara Dines, also of Cochrane, is a registered expressive arts consultant/educator – www.daradines.com. Her Cochrane company specializes in getting people to interact across art media as a means of self-expression, with a special emphasis on the importance of genuine listening. My column for Feb. 6, 2013 featured Dara's views on the healing power of beauty.
Robert Kelly, also of Cochrane, is an associate professor, Faculty of Arts, University of Calgary – www.robertkelly.ca. In demand world-wide as an advisor and panelist, he has focused much of his recent research on bringing the How of learning to create into educational practice. I featured Robert's latest book, Educating for Creativity, in my column for Feb. 20, 2013.
Chris Stanley, originally from the UK, now lives in Calgary, but it seems he's made a table at Cochrane Coffee Traders his second home these days. Chris is the founder of C Beyond Success, a venture specializing in community facilitation and coaching. Chris's understanding of true success as the answer to "Why am I here?" was the topic of my column for June 5, 2013.
The topic for this Friday evening is "Creativity, Imagination and Passion – in Life as in Art." We will be meeting in the St. Andrew's United Church hall, across from the Cochrane post office, at 7 pm, Jan. 10. Please join us, if you like.
© 2014 Warren Harbeck
JoinMe@coffeewithwarren.com