Readers embrace life with mindfulness, listening and love
COFFEE WITH WARREN, with Warren Harbeck
Cochrane Eagle, February 6, 2013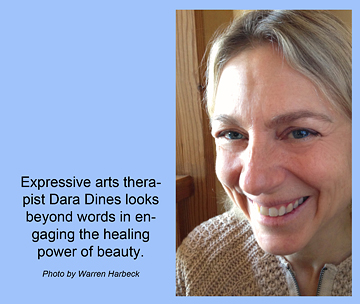 In last week's column I lamented over the willful destruction of Timbuktu's priceless cultural heritage. I concluded by asking: What can we do locally and globally to experience a true dialogue that honours our common humanity?
Your responses have dominated my every waking hour since then.
This is "a call to each of us to do all we can to reach out and then listen, actively, beyond the words and then speak truth with love," Alberta MLA David Swann wrote.
Elisha Kittson, formerly of Bragg Creek and now residing in the Okanagan, agreed. This is "a call to action" rooted in stillness, she said. The sages of the ages have "taught us to listen inward . . . respond instead of react."
"Yes, what can we do to more fully embrace the healing dialogue of real listening?" asked HR consultant Lori Craig. (Lori is currently co-authoring a book with me on fanning the flames of hope in each other.)
"Maybe we can be ever mindful and diligent in every conversation," she said, "starting with the ones we have with ourselves. Let's learn to truly listen to our inner guides, the dialogue within that heals and fuels our spirit. Then get out our listening 'fans' and give as many people as we possibly can the gift of real listening – the gift of feeling understood."
Family physician Josie Wilson Emmett, now retired and living in Canmore, quoted Ralph Waldo Emerson in support of the soul's wellbeing in the face of injustice:
"That which befits us, embosomed in beauty and wonder as we are, is cheerfulness, courage and the endeavor to realize our aspirations," Emerson wrote. "Shall not the heart which has received so much, trust the Power by which it lives? May it not quit other leadings, and listen to the Soul that has guided it so gently, and taught it so much, secure that the future will be worthy of the past?"
This reminds me of something the Russian writer Dostoevsky famously said – words that are one of the guiding lights for these columns: "The world will be saved by beauty." And that beauty must start within each individual.
On that theme, Cochrane expressive arts therapist Dara Dines joined me for coffee the other day. Dara works with groups and individuals to enhance their aesthetic awareness and creativity in confronting life's issues by drawing on a wide variety of media. Often times this process bypasses words in liberating the light within each person – "Language can be so judgmental," she says.
Nevertheless, she, too, loves great quotes, finding inspiration, for example, in the words of Anna Halprin, a pioneer of postmodern dance: "I feel that a healthy community is a community that can find a way to create together."
Dara herself has drawn on artistic expression at times of personal inner struggle. She told me of the time recently when she was nearly overwhelmed by negative events in her life and experienced nausea and fatigue.
She liberated the light within herself by creating a collage of random images of people and places. Then interacting with paints and other media, she described her experience poetically:
"Look where we live. The mountains, the stars, it's magical," she wrote. "I'm singing my song! It's more beautiful than I imagined . . . . I'm learning about unconditional love."
She "felt stronger and energized afterwards," she said, because she could see the interconnectedness of people and events in ways that helped her rise above her inner pain.
Our final word is from Cremona coffee companion, Kathie Reid: "As the darkness crowds around us, around the world and here at home, we need to shine the light of love, compassion, generosity and gentleness."
Yes, to honour our common humanity we must begin with ourselves.
© 2013 Warren Harbeck
JoinMe@coffeewithwarren.com