Oil wells, tomb stones and the meaning of true success
COFFEE WITH WARREN, with Warren Harbeck
Cochrane Eagle, June 5, 2013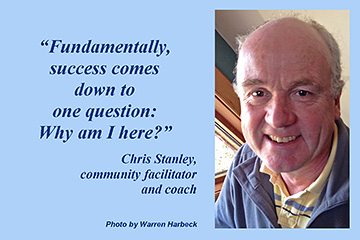 The formula for success, according to the 20th century industrialist J. Paul Getty, was quite simple: "Rise early, work hard, strike oil."
Such views of success might make sense to some in the Alberta oil patch, but certainly not to our Cochrane coffee companion Chris Stanley.
Chris used to work in the oil and gas industry but left it a few years ago because life held higher expectations of him, he says – expectations that had everything to do with true success.
"Success is ultimately a reflection of oneself: our values, passions and desires," he said to me the other day over my morning cup of light roast.
"How do we want to be seen and how do we want to see others? What do we stand for and what do we want to leave behind? What do we desire for ourselves and what do we aspire for those around us?"
Originally from England where he specialized in naval architecture and design before entering the resource industry, he set out on his new path a couple of years ago and founded C Beyond Success, a venture that specializes in community facilitation and coaching.
"Success is not the big-ticket item," he explained. "Success is the moments of sharing with people – a gift of awareness. That's why I gave my company that name."
Then he added reflectively, "Is life simply about achievement? If so, now what?" Rise early, work hard, and strike more oil?
Rather, for Chris, life is about relationships among people. "Success is a lifestyle, a tangible experience of living in the present – not about what we are, but who we are," he says. "How does one really want to be remembered? Does one require the immensity of words and actions, or the humbleness of love as a memory?"
This way of thinking about success was driven home to him a few years ago while visiting Wells Cathedral in England. Touring the grounds, he observed the grave stones proclaiming the attributes and achievements of kings and carpenters alike who had passed on over the centuries.
"The thing that struck me was the immensity of the language," he said. "Did people believe that their greatness as a person would live on forever based upon the size of their memoriam and the adjectives attached to them?"
Considering how he sees his three daughters, and how he hopes they see him, he asked: "Upon my death, what story would my daughters choose to share? This is how we are ultimately measured."
Back at our café table in Cochrane now, Chris looked intently at me and asked whether I'd agree with his conclusion: "Fundamentally, success comes down to one question: Why am I here? Maybe life just is; it only needs to be cherished, accepted, lived and loved."
I asked his permission to run his conclusion by our other coffee companions for your thoughts. He agreed, and over the next weeks I'll be featuring some of your responses.
In fact, I've already approached a few of our readers on how they'd respond to Chris's views on the successful life.
For example, I'll be sharing how author/consultant Mark Anielski relates success to happiness. In preparation for his response, he invites us to view an outstanding YouTube interview with Tom Shadyac, motion picture producer/director whose credits include Bruce Almighty and I Am (his documentary on "what it means to live a truly fulfilling life on this planet").
HR consultant Lori Craig has her own take. Informed by her experiences in facilitating workshops on Stephen Covey's The 7 Habits of Highly Effective People, she will share with us what icebergs can teach us about personality and success.
Then there's authenticity speaker/writer David Irvine, who says:
"Whenever we speak of success, there are always two levels. The first is outer success. The second is inner – or authentic – success: success beyond success." David asks us to consider the traits of the people in our lives we truly admire.
And how about the rest of you? Let's get this conversation going!
I'm reserving next week's Father's Day column as a tribute to one Cochrane-area old-timer whom I truly admire as an example of what success in life looks like in ranching duds. Stay tuned.
© 2013 Warren Harbeck
JoinMe@coffeewithwarren.com