Stoney Nakoda to be identified by their respect-based life
COFFEE WITH WARREN, with Warren Harbeck
Cochrane Eagle, November 7, 2013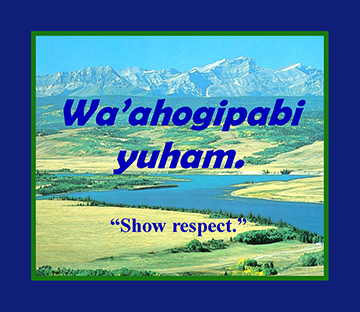 "Respect is the core of our traditional teachings," says Morley elder Tina Fox, noting that this scene looking up the Bow River as it flows through Stoney Country is "a powerful message to take good care of Mother Earth." Photo by Warren Harbeck
This is the fifth in a series of columns on personal religious identifiers.
Inspired by Quebec's proposed legislation banning public-sector employees from wearing obvious religious symbols while on duty, this series focused on values associated with members of the four Abrahamic religions: Love (Christianity), Justice (Judaism), God-conscious servant-righteousness (Islam), and Unity (Baha'i) – identifiers that no law can ban.
Of course, much could be said about other world religions, too: Buddhism, Hinduism and Sikhism, for example, which share the value of universal brotherhood. But time just doesn't allow this – for now, at least.
There is one other spiritual tradition, however, that I cannot conclude this series without commenting on – one that's had a profound influence on me personally.
For most of my life, elders of the Stoney Nakoda First Nation at Morley, west of Cochrane, have mentored me in the ways of being an authentic human being. One of those elders is Tina Fox.
Tina is a community leader distinguished by prudence, compassion and moral courage. A frequent contributor to this column, she consistently champions one value above all others: respect.
"Respect is the core of our traditional teachings," she wrote me the other day.
This value was front-and-centre in the Stoney Education Authority's language workshop in which Tina and I participated in August. One product of the workshop was a list of Stoney values at the top of which was respect – respect for the Creator, for Mother Earth, for oneself, and for each other.
The word for "respect" in Stoney is wa'ahogipabi (pronounced wah-ah-ho-gee-PAH-bee).
Tina and the other workshop participants quickly related that value to three other important Stoney values: Wazin îchinabi (wah-ZHEEDN een-chee-NAH-bee) "oneness," Oyade gichiyabi (o-YAH-day gee-chee-YAH-bee) "living in harmony," and Waûsiginabi (wah-oon-shee-gee-NAH-bee) "compassion."
On a related note, Tina, a prominent advocate for respect-based restorative justice, spoke recently at Mount Royal University's World Religions Conference, co-hosted by the university's Multi-Faith Chaplaincy and Ahmadi Muslim women of Calgary.
"As hunter/gatherer societies, First Nations were totally dependent on each other for survival and so adhered to traditional teachings and customs that were geared towards peaceful co-existence," she told her audience.
At the heart of this, she noted, was the pairing of respect with forgiveness. "Efforts were made by the Elders and leaders where a talking circle was held for victims, offenders and family members to reach a solution which might include forgiveness and restitution. Forgiveness is a virtue that is necessary to maintain balance within the community."
Meanwhile, on the hill across the Bow River north of the Morley town site stands a horse-and-rider war memorial. This, too, is about respect, Tina says.
It's in honour of Joe Poucette, Rifleman, Royal Winnipeg Rifles. Joe was killed in action Aug. 14, 1944, in Normandy and buried, along with 2,872 other young Canadians, in the Canadian War Cemetery in Bretteville-sur-Laize, France.
"Joe was my uncle, my father's younger brother," Tina says. "I consider him to be a true warrior. He voluntarily enlisted. He honoured our traditional teachings of being strong and fearless and to be never caught with the weapon (arrows) in our backs. He was only 19 years old!"
Members of his family are planning a 70th anniversary visit to the grave site in 2014, she says. They're hoping to raise funds to take one or two students with them, as well.
Monday is Remembrance Day, a special day that gives the rest of us an opportunity to join with Tina in practicing this core value of respect, both for Joe and for all other Canadians who have stood strong and fearless in the face of battle.
Thank you, Tina, for this timely reminder.
© 2013 Warren Harbeck
JoinMe@coffeewithwarren.com