Disasters: God's wrath, just natural, or otherwise?
COFFEE WITH WARREN, with Warren Harbeck
Cochrane Eagle, May 11, 2011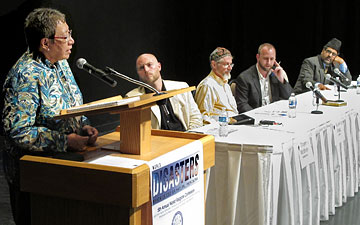 Tina Fox addresses World Religions Conference at the Cochrane RancheHouse on a Stoney Nakoda understanding of God and natural disasters. Other panelists are, left to right: Mayor Truper McBride, moderator; Russell Stagg, representing Judaism; Steve Schaufele, Christianity; and Nasir Butt, Islam. Photo by Warren Harbeck
In the aftermath of devastating floods, tornados, earthquakes and tsunamis, death and destruction dominate our TV screens.
What do all these disasters mean? The wrath of God? Or are they merely natural phenomena?
That was the theme of a panel discussion at the Fifth Annual World Religions Conference, sponsored by the Ahmadiyya Muslim Community, Calgary region, and held last Wednesday evening at the Cochrane RancheHouse. (See also my column for March 24, 2010 on last year's Fourth Annual World Religions Conference on faith and the economy.)
The panel, moderated by Town of Cochrane Mayor Truper McBride, featured speakers for Judaism, Christianity, Native spirituality, and Islam.
The Muslim and Christian panelists differed on whether natural disasters are God's punishment for evil. Qur'anic scholar Nasir Butt (Islam) said yes, if human beings don't serve the purpose for which they were created. That's why merciful God sends His messengers to warn people. Area pastor Steve Schaufele (Christianity) said no, the disasters themselves are not God's punishment for evil, since Jesus has already paid the price for evil on the cross. Both agreed, however, that such disasters are wake-up calls for people to repent with a view toward eternity.
It was the First Nation and Jewish panelists, however, who gave their audience something to work with in the here and now.
Stoney Nakoda elder Tina Fox spoke of the consequences of our environmental insensitivity – catastrophic oil spills, for example. "Everything is interconnected," she said. "We need to respect Mother Earth." The disasters are "because of our actions. Mother Earth is hurting and fighting back."
Taking responsibility for our actions was the central point made by Russell Stagg, astronomer and scholar of things Jewish. "We are asking the wrong question," he said. "The right question is: What does God require of us?"
Judaism teaches that "it is up to us to create a more perfect world," he said, but we haven't done a very good job. We build nuclear power stations in unsafe locations and construct tsunami barriers that are too short. The result? It's human beings who must bear the responsibility for making a disaster out of what should have been no more than an event.
Quoting the Torah, "You shall love your neighbour as yourself," he concluded his presentation, not by accusing God, but with a prayer "for strength, determination and willpower to do instead of just to pray, to become instead of merely to wish."
© 2011 Warren Harbeck
JoinMe@coffeewithwarren.com