Jews to be known by their embrace of justice, says rabbi
COFFEE WITH WARREN, with Warren Harbeck
Cochrane Eagle, October 10, 2013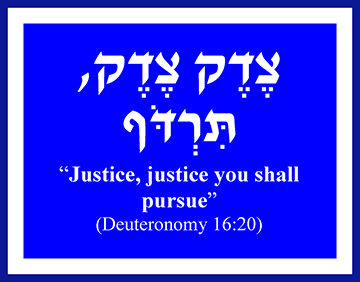 Tzedec, Tzedec tirdof, "Justice/righteousness, justice/righteousness you shall pursue," underlies a foundational principle of Judaism for both public and private life, according to Rabbi Shaul Osadchey of Calgary's Beth Tzedec Synagogue. Illustration by Warren Harbeck
Last week's column on religious symbols drew more responses than any other column I've ever written. Readers generally agreed that attitude and behaviour, not personal apparel or accessories, are the true public identifiers of one's faith.
But, whereas I argued that Christians should be known by their love, Rabbi Shaul Osadchey of Calgary's Beth Tzedec Synagogue suggests that Jews should be known by their lifestyle of justice/righteousness.
In addition to his congregational responsibilities, Rabbi Shaul is also president of the Calgary Council of Christians and Jews (CCCJ), on which I too sit. It was through his influence that the Beth Tzedec Congregation, in cooperation with St. Mary's University College and the CCCJ, hosted last spring's weekend seminar on "Jews and Christians Studying Sacred Texts Together" with visiting scholar/author Amy-Jill Levine.
About obvious symbols, he tells me "Jews for the most part do not wear a lot of religious jewelry," but all Jews should be characterized by justice. He writes:
One of the foundational principles of Judaism is the embrace of justice as we find in Deuteronomy 16:20, where we are commanded, Tzedec, Tzedec tirdof – "Justice, Justice shall you pursue." The rabbis comment that the repetition of the word Tzedec suggests that justice should be pursued in both the home and the outside world, that is, in one's personal and communal life.

The notion of Tzedec is so essential that over time it incorporated the essence of other values such as chesed "loving-kindness," emet "truth," yashar "integrity" and tamim "purity." The reason for the comprehensiveness of Tzedec is that it embraces morality in all aspects of life. Tzedec represents the essence of God.

The rabbinic conception of justice is one that does not distinguish it from the values of faith or love. Among God's many names are two prominent ones (Adonai "The Merciful One," and Elohim "The Just One") that speak to the notion that these two attributes are indispensable to sustaining the world. Justice alone would be harsh and punitive while the unilateral application of mercy without the balance of justice would lead to a world torn apart by wrongdoing and suffering.

Hillel, the great rabbinic sage of the 1st century, taught, "Do not do what you would not want done to you." (Compare Jesus' formulation of the Golden Rule, "Do unto others as you would have them do unto you.") For Judaism, a foundation for moral society had to be built based upon minimum standards of conduct that all persons could observe. From this foundation, individuals could rise to higher levels of respect and eventually to the highest rung of love.

Thus, the rabbinic emphasis was to address how a person could live according to the standards of Tzedec. For them, Judaism provided a course of conduct illuminated by the mitzvoth "commandments," found in the Torah. Justice, then, is realized through the active implementation of the covenant between Israel and God based upon the Torah that bears the potential for each person to become holy.

The notion of the Jewish People becoming an am kadosh "a holy people" led to the development of the notion of tikun olam "repairing the world," as a manner in which God and humanity seek to create a world filled with Tzedec. Such a world will embrace the unity of God and lead to the messianic age.
Rabbi Shaul's response is one more reason I'm grateful for the interfaith dialogue I'm privileged to be part of in the CCCJ. I find it particularly intriguing that we hold our monthly noon-hour meetings at Beth Tzedec Synagogue, whose very name means "House of Justice/Righteousness."
Thank you, my brother, for clarifying for many of us something so essential to our common longing to embrace God's loving-kindness, justice and righteousness in our personal and public lives.
© 2013 Warren Harbeck
JoinMe@coffeewithwarren.com