Robyn MacKay reports on cycling tour across northern India
COFFEE WITH WARREN, with Warren Harbeck
Cochrane Eagle, February 25, 2016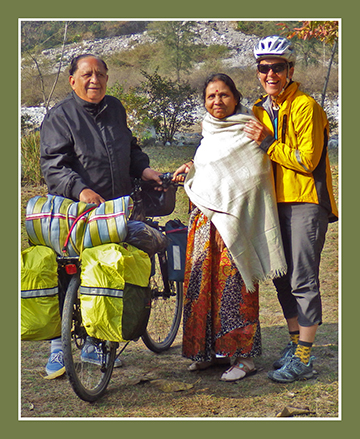 Robyn MacKay, right, poses with new friends while cycling with husband Bruce across northern India to sacred sites and fishing holes. Photo by Bruce Roberts
Robyn MacKay is once again cycling her way toward an even greater embrace of the richness of humanity in the Indian subcontinent – and making lots of new friends along the way.
In my Oct. 22, 2015 column, I featured her outstanding photo exhibit of her and her husband Bruce Roberts' previous cycling tours through India and Sri Lanka.
This week I'd like to share some of Robyn's equally outstanding writing about their current journey eastward across northern India, through sites sacred to Buddhism and Hinduism, with an overnight of Sikh hospitality and a stop at Bruce's destination fishing hole.
Here's an email I just received from her, condensed for this week's column.
ONCE AGAIN INDIA has served us a heaping thali plateful of new experiences.
Our first few days were in Dehradun, about 200 km north of New Delhi, at a small guest house on the edge of the city, surrounded by tangled, impenetrable forests where leopards still roam free.
The sound of deep baritone chanting, horns blowing, and the clanging of symbols from the Buddhist monastery next door woke us just before the first light of dawn. One jet-lagged morning, I stumbled in through the dark entrance and sat cross-legged with dozens of monks sipping Tibetan salt tea, starting the day's Puja. A young novice, wrapped in a blanket to ward off the morning chill, rose and filled my cup, smiled that classic Buddha smile, and bowed as he raised his hands to his heart. It was as if they were expecting me to arrive.
From there we cycled to Haridwar and the Ardh Kumbh Mela,* rightly touted as the world's largest religious pilgrimage. At an auspicious bathing date every 12 years – Feb. 8 this year – all Hindu castes can wash away a lifetime of sins in Mother Ganges, and hope to be released from the wheel of Samsara, never to be reborn again.
We joined a quarter of a million pilgrims and were instantly swept into the flowing current of heartbeats seeking the most beneficial dip in the holy nectar of Vishnu.
After that we headed off on what should have been an easy three-day ride towards a mahseer fishing camp in Jim Corbett National Park, Bruce's pilgrimage destination. At one point we were stopped and rerouted by forestry officials wagging their fingers and repeating, "Danger, tiger, danger!" Onto a two-day diversion we pedalled that became a series of unforgettable experiences.
The further we cycled, the more disorientated we became. We popped out onto the wrong national highway. Another wrong decision led us into darkness and a tiny village at the end of a road. Two young men who spoke patchy English approached us offering to take us home with them for the night. Recognizing a Sikh turban, and hearing we would be with their mother, aunties and sisters cinched the offer. How could we say no?
We entered a gate carved into a mud wall to be welcomed by multi-generations of loving people. They offered us their warm beds, cups of hot tea, delicious food, and kindness that cannot be forgotten. I explained to Amit, our host, that my mom [the late Christina MacKay] must have been watching over us, but he was sure that it was his God sending us to him as a gift.
My jaw dropped and my mind clicked when Amit said it was his duty to care for us. He slept outside our room with his German Shepard named Sam, so we felt safe as we drifted off into quiet dreams. We had unknowingly immersed ourselves in the true meaning of Dharma.
We headed off in the morning with tummies full of foods we had never before tasted, washed down with fresh warm buffalo milk mixed with cane sugar, hoping to find the right road to our destination. A four-wheel drive found us on the winding Himalaya road to the riverside camp to pursue Bruce's dream: to catch an elusive mahseer fish. Bruce latched onto a giant mahseer in the first five minutes – only to lose it.
With one month yet to go in our latest journey across this mystical land, however, not lost is the memory of my mom. In the light of her love, I open up my heart and ride on, seeing the world for her through my eyes.
— Robyn MacKay, India, Feb. 17, 2016
*To check out a Feb. 8 Times of India article on Robyn and Bruce's visit to the Ardh Kumbh, click here.
© 2016 Warren Harbeck
JoinMe@coffeewithwarren.com