Robyn MacKay serves flavour of humanity in photo exhibit
COFFEE WITH WARREN, with Warren Harbeck
Cochrane Eagle, October 22, 2015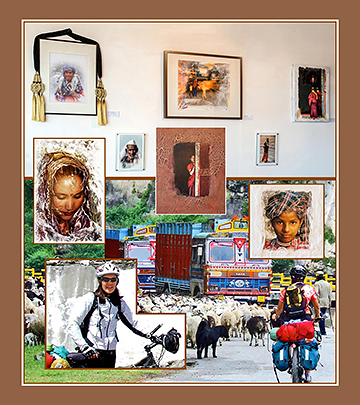 The Gentry Espresso Bar is featuring an exhibit of photos taken by Robyn MacKay (bottom) while bicycling through India and Sri Lanka. Images include that of a woman on her wedding day, a novice monk and a Gypsy girl. Photos by Robyn MacKay; collage by Warren Harbeck
Click for a larger version
The MacKay family have long been revered for the wide variety of flavours of their iconic ice cream.
Robyn MacKay, however, has just added a new flavour to life's menu – and it's not ice cream.
Her "flavour of the month"? Humanity, rippled with a rich blend of culture and creativity, as served through the lens of her camera during several bicycling tours of India and Sri Lanka with her husband, fly-fishing guru Bruce Roberts.
Robyn is a world-class photographer. A must-see exhibit of her encounters with people in the Indian subcontinent is on display till Nov. 30 at The Gentry Espresso Bar (formerly Java Jamboree), in Cochrane Towne Square.
Among her two-dozen works, you'll meet Shivani, a woman on her wedding day in Himachal Pradesh, a photographic image transfer on wood, encaustic (hot beeswax) mixed media. Novice monk Rumtek Gompa, of Rumtek, Sikkim, will peek at you from behind a doorway. And then there's the exquisitely white-framed Gypsy girl in Mussouri.
"My bicycle opened a different perspective on travel for me, creating opportunities to experience daily life and rituals alongside local people," Robyn says. "The images I captured through the lens of my camera, and the ambassadorship of my bicycle, reflect genuine life-changing moments during my journeys."
Robyn has dedicated her creative inspiration to her mother, the late Christina MacKay. "Her only transportation until she was in her 40's was a bicycle," Robyn says. "She passed on her love of two-wheeled travel to me. Through her eyes as an immigrant War Bride, and her unwavering bravery to meet new people, I was taught fearlessness and the belief in the goodness of humankind. This allowed me to get close and personal with the many wonderful people in my photographs."
I'm not the only photographer who is thoroughly impressed with Robyn's images. Cochrane photo-essayist Jack Blair, upon viewing her exhibit, said:
"I think Robyn's exhibit is superb. Her capture, printing and presentation are all excellent and a wonderful example of a true artist."
I couldn't agree more.
To experience for yourself the flavour of humanity Robyn is serving through her photography, be sure to visit her exhibit at The Gentry. It will satisfy the taste buds of your soul.
© 2015 Warren Harbeck
JoinMe@coffeewithwarren.com