Mysterious creature in water spout reveals its identities
COFFEE WITH WARREN, with Warren Harbeck
Cochrane Eagle, January 28, 2016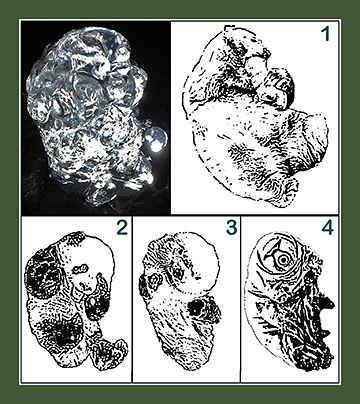 Shapes seen in fountain of water at top left include: (1) a mother bear cuddling her cub, (2) a panda pup, (3) a sea otter, and (4) a tardigrade. Graphic by Warren Harbeck
You folks never cease to amaze me with your vivid imaginations. Last week I wrote about some creature shapes my camera captured in water spewing up from a garden fountain at Anything Grows Cochrane Garden Store. I concluded by asking you what kind of creatures you saw in a mysterious moment in the mini-geyser at upper left in accompanying graphic.
There was absolutely no doubt about the kind of creature this was, according to several of our readers.
"A mother bear, of course!" responded Marlis McDouall, of Cochrane. "She is holding her cub close to her.
"Water, like clouds, provides an endless picture book of all creatures great and small," she added. "The other afternoon I watched a cloud formation that looked exactly like three dolphins jumping out of the sea, with a long, thin, straight cloud being the ocean. Just another sample of Mom Nature's superb artwork."
Calgary reader Rich Mercer also admires Mom Nature's artwork. "It's a new panda pup in black and white camouflage," he wrote.
Then there are these kind words from my goddaughter, horsey gal Kateri Cowley: "Adorable! You always find such beauty in life around you. I think it looks like a sea otter."
Speaking of water dwellers, here's one you may not have heard of before.
My Toronto-based linguist/writer son James said the mysterious water spout creature reminds him of a tardigrade, and referred me to an article he published a few years ago about these eight-legged micro-animals.
Also known as water bears, they are only a millimeter long and can survive in outer space, at the bottom of the deepest sea and in temperatures above boiling and close to absolute zero, he said. Enlarge this fellow about 10,000 times "and you have something pretty near perfect for a sci-fi horror flick."
I've saved the closing comment for B.C. healthcare consultant Karin Henderson:
"Warren, this is like finding a box of chocolates way past Christmas! In a concrete ball disguised as a gurgly fountain! How clever; how rewarding; how unique! It's like finding THE place where fairies dance! Only a few will seek this treasure. And here you have exposed it to your readers. Thank you so much!"
And thank YOU ALL so much for inviting me into the zoological gardens of your imagination.
© 2016 Warren Harbeck
JoinMe@coffeewithwarren.com