Creatures concealed in fantasy fountain revealed in photos
COFFEE WITH WARREN, with Warren Harbeck
Cochrane Eagle, January 21, 2016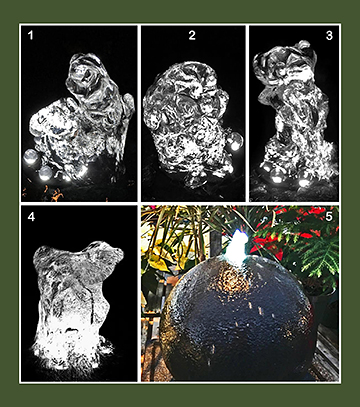 The mini-geyser rising from the concrete sphere fountain at Anything Grows revealed a zoo of crystalline creatures: (1) a dog looking over its shoulder, (2) something cuddly, (3) a gopher, and (4) a bighorn sheep. Photos by Warren Harbeck
Click for a larger version
In my April 23, 2015 column I wrote of the relaxing strolls I take among the beautiful blossoms at Anything Grows Cochrane Garden Store. Recently I discovered another kind of beauty that had completely escaped my notice; it was hidden in plain sight, and it wasn't even flowers.
Before I let you in on it, however, here are a pair of responses I received to last week's column about two inspiring Cups of Light on a very cold day in Cochrane.
From Canmore, retired physician Josie Wilson Emmett shared a poem by the 14th century Persian poet Hafiz (Daniel Ladinsky's translation):
"A poet is someone / Who can pour light into a cup, / Then raise it to nourish / Your beautiful, parched holy mouth."
And from Gibsons, BC, Teyjah Xaveriss wrote: "I love how the most common everyday things speak volumes as we turn the pages of our life, arriving in unexpected blissful moments."
Ah yes, unexpected blissful moments. That's exactly what I experienced recently in Anything Grow's greenhouse. (See the accompanying photo-collage.)
Greeting me when I'd begin my strolls among the vibrant plants and blossoms was one of those popular concrete sphere fountains (see image 5). A bit larger than a basketball, it featured an internally illuminated spout of water about 8 cm / 3 inches high. I'd always noticed the water's brightness, but hadn't given it much thought.
Not much thought, that is, until the day I decided to take a few close-up photos of the brightly lit mini-geyser on my smartphone.
Was I ever in for a surprise when I got home and began processing the shots. Every image showed the water in delightfully diverse short-lived shapes. And even more surprising, because the camera had based its exposures on the water's brightness and not the darker background, details were revealed that were not obvious at first.
The fantasy fountain was a veritable zoo of crystalline creatures!
In image 1, for instance, a reclining dog was looking up over its shoulder. Image 3 looked very much like a gopher standing at attention. And Image 4 was suggestive of a youthful bighorn sheep facing right with its head tilted back.
Image 2 continues to intrigue me for its cuddliness, but I haven't decided what it reminds me of yet. How about you folks? Any suggestions?
© 2016 Warren Harbeck
JoinMe@coffeewithwarren.com