Spring flowers inspire winter-weary world with hope and joy
COFFEE WITH WARREN, with Warren Harbeck
Cochrane Eagle, April 23, 2015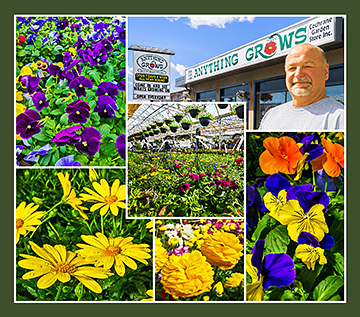 Rob Heembrock, upper right, celebrated the arrival of spring by filling his Anything Grows Cochrane Garden Store with a floral profusion of varieties and colours to delight the hearts of many. Photos by Warren Harbeck
Click for a larger version
When Rob and Sandy Heembrock opened Anything Grows Cochrane Garden Store back in 1999, I doubt they had any idea of the joy they'd bring to a certain flora-friendly photographer – me!
Especially in spring.
I've long had the habit of dropping by their greenhouse Tuesday afternoons after reviewing my column's page proofs at the Eagle office, a block away.
My past week's visit was particularly rewarding. Their spring stock had just arrived, and Rob was more than happy to allow my camera to celebrate the profusion of varieties and colours.
And yes, I'm always a sucker for the smiling faces of the pansies. It's as if they'd been looking forward all winter to seeing me again. To return the favour, Mary Anna will be inviting some of them to our own garden so we can have the rest of the season to enjoy each other's company.
But look, a picture is worth a thousand words, as they say. So rather than me prattling on about the blossoms, I'll just let them speak for themselves through the accompanying images.
As our longtime coffee companion Liz Giles said to me over cups of light the other day after viewing the images:
"Spring is the time of new beginnings, new life. The flowers are a reminder of how we ourselves can be blossoms of hope and joy for a winter-weary world."
© 2015 Warren Harbeck
JoinMe@coffeewithwarren.com