Sunset pays tribute to late Dale House and Malcolm Hunter
COFFEE WITH WARREN, with Warren Harbeck
Cochrane Eagle, November 12, 2015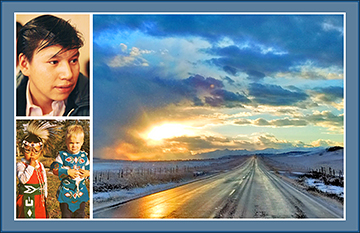 Sunset along Hwy 1A spoke of hope amid the recent loss of Dale House (upper left, late 1960s) and Malcolm Hunter (lower left, standing next to James Harbeck, 1969-70). Photos (left) by Warren Harbeck; (right) by Kyle M. Fox
Click for a larger version
Two weeks ago I ran a joyous column in which I mentioned how the late Stoney Nakoda Elder Jacob House had adopted me into his family. Because of that honour, I became a brother to Dale House and an uncle to Dale's son, Malcolm Hunter.
This week's column is on a more somber note.
Last week, while Dale and Malcolm were travelling through Utah on their way to the Indian National Finals Rodeo in Las Vegas, their van was struck from behind by a semitrailer. Both died at the scene.
Dale (70) was a revered Elder and pipe carrier among the Stoney people. (The pipe is associated with traditional sacred ceremonies which Dale often opened in prayer.)
Malcolm (47) was a respected traditional drummer/singer. He was born a month after our son James was born while both our families lived at Big Horn, the Stoney community north of Morley. (See accompanying photo I took around 1969–70 of Malcolm, wearing a porcupine roach and standing next to James, wearing a blue dancing outfit made by Malcolm's mother, Virginia Hunter.)
I have a special memory of my time with Dale from back in the late 1960s (see photo). He took me hunting one afternoon near Big Horn. An experienced hunting guide, he saddled up a pair of horses and together we crossed through the North Saskatchewan River to a high hill on the south side. There he showed me how to bring home a deer for dinner. After we dressed it and headed back, it was getting toward sunset.
The beauty of that moment was surpassed only by the importance of a lesson Dale taught me. Before we arrived at the corral, Dale had us leave some of the meat with one of the Elders. At the heart of the Stoney Way, Dale said, was the value of sharing life's blessings.
A few days after Dale and Malcolm's deaths, I came across an inspiring photo on Facebook by their cousin, Kyle M. Fox, of Morley. It spoke to me about hope, so I asked Kyle if I could share it with you.
"I took this right after the sad news while I was driving back from Cochrane," he replied. "It felt very spiritual. It seemed like a sign Dale and Malcolm had made it home to the Creator. I felt a peace inside me and that their journey in this life was peacefully completed. I'm glad you will use my photo to honour Brother Malcolm and Grandpa Dale."
© 2015 Warren Harbeck
JoinMe@coffeewithwarren.com