White Buffalo from Buffalo not buffaloed for Father's Day
COFFEE WITH WARREN, with Warren Harbeck
Cochrane Eagle, June 18, 2015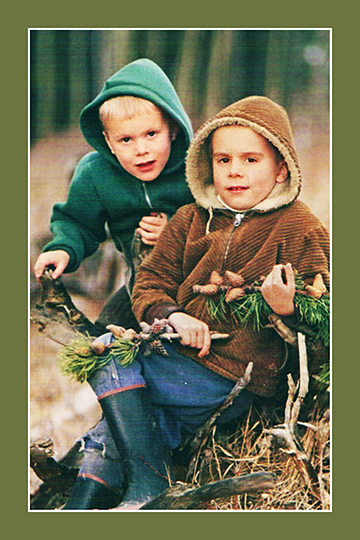 Columnist's sons James (left) and Reg Harbeck, pictured here in the early 1970s, have written this week's Father's Day column. Photo by Warren Harbeck
This week's column is my Father's Day gift from our sons. Reg (50), a computer professional/writer, lives in Ft. Langley, BC; James (47), a linguist/writer/editor, lives in Toronto. Thanks, guys! —Dad

Reg: White Buffalo? What's that about? Or, rather, who's that about?
Why, it's our dad, Warren Harbeck, and in honour of his 50th Father's Day since the birth of his firstborn (me), as well as his 75th birthday this past May, my brother James and I thought we'd have some fun reflecting on what makes him a "White Buffalo" and our experiences of this white-bearded wonder.
James: You may have encountered the sentence, "Buffalo buffalo Buffalo buffalo buffalo buffalo Buffalo buffalo Buffalo buffalo buffalo."
Believe it or not, that's a grammatically correct sentence, an assertion about how buffalo (bison) from (the city of) Buffalo, (which other) buffalo from Buffalo are buffaloing (i.e., fooling), are buffaloing (other) buffalo from Buffalo (which other) buffalo from Buffalo are buffaloing. It's a trick sentence popular among linguists.
And our dad, aside from being named White Buffalo and born in Buffalo, New York, is addicted to wordplay. He's a linguist.
We grew up in a house lined with texts in linguistics and various languages. I still have a couple of them that I spirited away. Perhaps my favourite inheritance from him is my love of languages and linguistics.
Dad was trained in listening to people and putting what they say faithfully on paper.
He still does.
Reg: Interestingly, Dad was given the White Buffalo name before he refined the mane. He hasn't always looked like Santa Claus – in fact, he hasn't always had a beard! When, 50 years ago, we first came to Morley, centre of the Stoney Nakoda First Nation that make their home along the Alberta foothills west of Calgary, he was clean-shaven and downright nerdy looking.
But by the time James and I were in school, his fulsome facial fashion was flourishing. Indeed, so intrinsic to his identity was Dad's beard that on the one occasion he shaved it off in the early 1970s, one of his friends in Morley went around introducing him to mutual acquaintances as Dad's brother – successfully!
James: The beard has long since become his trademark, and has helped his local fame. But it has also given him moments of borrowed fame. One stranger, seeing him in a mall, said "Wait a moment so I can go buy one of your records for you to autograph!" But no, he is not Kenny Rogers.
Another young lad came up to him in a store one day and said, "Hey, Santa! Where's that bike I asked you for this Christmas?" Dad answered, "Where's the thank-you note for what I gave you last Christmas?" The boy slunk away.
But – no, actually, Dad kind of is Santa Claus, a social Santa Claus: giving people the gifts of each other.
Reg: As for the name itself, it's actually an unintended coincidence that Dad was born and raised in Buffalo, and that his white beard gives him a semblance of his namesake. It's also not an English name – that's just a translation. The actual name is Tatâga Thkan, which is Stoney, and is pronounced something like "tah-TONG-gah THKAHDN," where the "th" is a sound halfway between "s" and a soft (voiceless) "th" in English.
He was given this name by his "adopted" Stoney father, the late Jacob House (Mom and Dad were both adopted into Stoney families soon after arriving in Stoney Country in the mid-1960s). White buffalo are very rare and seen as sacred, so this is an important association of this name, given to a man of God.
James: The resemblance to an actual buffalo does have its limits, of course. While our dad cuts a long-bearded figure that you can see coming at some distance, you won't find buffalo wearing a vest of many colours, and if you see one coming toward you on all four hooves like it means business, you'll be well advised not to seek a hug from it.
The white buffalo Dad resembles more may, in the end, be the plush stuffed white one he keeps by his computer: soft, agreeable, huggable – and a gift.
Both: Happy Father's Day, Dad! And we're not buffaloing you!
© 2015 Warren Harbeck
JoinMe@coffeewithwarren.com