Autumn's embrace of Cochrane celebrates the divine Artist
COFFEE WITH WARREN, with Warren Harbeck
Cochrane Eagle, September 24, 2015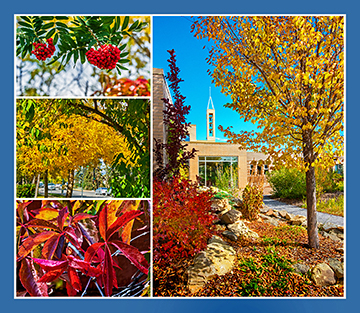 (Left) mountain ash berries, golden poplars and Virginia creeper vines celebrate autumn's arrival in Cochrane, while (right) the Sacred Garden at St. Mary's Church sings "Glory to God in the highest." Photos by Warren Harbeck
Click for a larger version
Autumn in our beautiful Bow Valley is a deeply inspiring time for me.
The gloriously adorned leaves move me to contemplate the opening to Psalm 19: "The heavens declare the glory of God; and the skies proclaim His handiwork."
In honour of the season, allow me to rephrase those words: "The stars and galaxies farthest out declare the glory of God; and the autumn foliage points to its Artist."
Ah yes, its Artist. And my camera loves to admire the Artist's handiwork on the canvas that is Cochrane – as it did the past few days in my travels around town.
Of course, I have to begin with my wife's garden that I enjoy out the kitchen window while washing the dishes. Clusters of bright red berries decorated our mountain ash almost as though it were a Christmas tree, while on the fence beyond, a Virginia creeper vine had decked itself out in crimson.
A visit to the post office added yellow to the canvas. Street after street, poplars echoed the sun's radiance.
But the highlight for me was the awesome experience offered by the Sacred Garden at St. Mary's Church. The garden seemed to be in an especially worshipful mood, as its reds and golds united in an angelic chorus of praise and gratitude to the Artist:
"Glory to God in the highest and peace to His people on earth."
© 2015 Warren Harbeck
JoinMe@coffeewithwarren.com