A butterfly's eye view of a dishwasher's floral reward
COFFEE WITH WARREN, with Warren Harbeck
Cochrane Eagle, July 23, 2015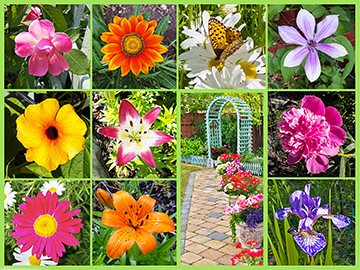 As this columnist washes the summertime dishes, he's rewarded with a profusion of colourful blossoms while looking out the kitchen window at his wife Mary Anna's backyard handiwork. Photos by Mary Anna Harbeck
Click for a larger version
With all the great coffee shops I visit around Cochrane week after week, I sometimes think our friendly foothills town should be proclaimed the Coffee Cup Capital of Canada.
But then summer comes. Street after street, front lawn after front lawn, we're treated to a floral fantasia that makes our long winters almost bearable.
Perhaps Cochrane should be proclaimed Garden City of the Foothills?
Just strolling through my own neighbourhood of Glenbow, for instance, I encounter home after home of creative landscaping that takes my breath away. Walkways and walls are lined with pansies, petunias and snapdragons; rock gardens embrace stately pines.
But one home in particular provides me an experience unlike any of the others.
At that home I'm privileged to have a special perch from which to peer into the privacy of a backyard garden and observe the day-by-day emergence of its floral fantasia – and as a bonus, to enjoy its photographic documentation by its artist.
Yup, that artist happens to be my wife, Mary Anna.
And my special perch? The window above the kitchen sink from which, since I'm the dishwasher in the family, I enjoy a perfect view of Mary Anna's backyard handiwork. (We have a saying in our home: "Thems who cook, cook; thems who can't, wash dishes.")
For this week's column, then, I thought I'd let you have a peek at the garden. I've put together a collage of Mary Anna's close-up photos of a few of this year's blossoms.
You'll have a butterfly's eye view of a rose, iris, moonfleet clematis, gazania and a black-eyed-susan vine, as well as lilies, daisies and peonies.
You'll also see the paving stone walkway leading to the arboured entrance to the garden, a memorable gesture of friendship I wrote about in my July 4, 2007 column.
By the way, just out of sight beyond the arbour is a statue of St. Francis, a reminder, Mary Anna says, that "like all of life, the more time I spend on my knees in the garden, the more beautiful it gets."
© 2015 Warren Harbeck
JoinMe@coffeewithwarren.com