Old Time radio, 'Selma,' and the beauty of colour diversity
COFFEE WITH WARREN, with Warren Harbeck
Cochrane Eagle, February 19, 2015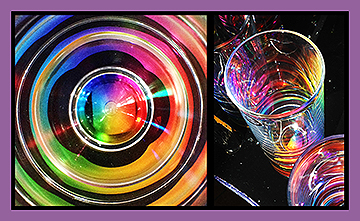 The "eye of the rainbow" greeted me in a set of iridescent acrylic tumblers at Cochrane's Tea & Other Things, a reminder of beauty in diversity. Photos by Warren Harbeck
Last week's memory-lane column on George Rogers and the North-West Mounted Police, with allusions to that old-time radio program about Sergeant Preston of the NWMP and his wonder-dog Yukon King, sure drew some great responses.
One was from George's A&W coffee companion, Old West aficionado Richard Benedictson, two-time winner of the title, 2nd, Top Gun in the World, at the Wild Bill Hickok Fast Draw Championship.
Within days of that column's appearance, I was about to leave the A&W when Richard pulled me aside. He thought I'd like to see his treasured collection of comic-book memorabilia from the Sergeant Preston and Yukon King era.
There they were, most in almost new condition, archivally protected – two sets, 29 in each: "Zane Grey's King of the Royal Mounted," and the "Yukon King" series, also inspired by novelist of the Old West, Zane Grey. Ah, such memories.
And it's not just a "guy" thing, either. Here's a response I received from Edmonton coffee companion, Colleen Chapman:
"On yo huskies! I loved that show," she wrote. "I also remember rushing home from school to listen to 'Wild Bill Hickok' and 'The Lone Ranger'! My mother, quite naturally, listened to 'Stella Dallas.' That would have been 1952/53."
Then Colleen reminisced over the vocalists of that day, folks like Gene Autry, Roy Rogers and Dale Evans. "Oh my goodness, I feel so young!" she concluded. "As Bob Hope used to say, 'Thanks for the memory'!"
(To check out Bob Hope and Shirley Ross's original 1938 on-screen duet of what was to become Bob Hope's theme song, go to YouTube.)
Memories. Yes! Skipping ahead a few years to 1965 – in fact, 50 years ago next month – my wife Mary Anna and I recently viewed a cinematic commemoration of a turning point in American civil rights: this year's Oscar-nominated film, "Selma."
"Selma," based on the Martin Luther King, Jr.-led death-defying march from Selma to Montgomery, Alabama, is set amidst the Selma Voting Rights Movement. The film must rank among the ten most important I've ever seen – deeply moving in its depiction of justice-for-all triumphing over the discrimination of those days that failed to see the beauty in colour diversity.
This particular memory segues quite nicely, I think, to a truly beautiful moment in colour diversity Mary Anna and I experienced the other day at Tea & Other Things.
Kelly Joyner's shop, located in Cochrane's historic Old Town, features not only every variety of bulk tea you could ever hope for, but delightful gift items, from knick-knacks, tea pots and tea cups, to some very eye-catching glasses and pitcher sets, perfect for those memorable warm summer days on the patio.
Did I say eye-catching glasses?
Well, Mary Anna, who delights in serendipitous beauty, suggested I take a look at a display of iridescent acrylic tumblers that caught her eye.
Sure enough, the Taiwan-made set glowed with glorious colours, especially when the sun shone on them against the black surface on which they sat.
Obviously, my cell phone camera took an interest in them, too, as in the accompanying photos. I followed up a long shot of the tumblers with a close-up looking down into one of the tumblers from its rim. I was so impressed with what my camera saw, I had to title that shot, "The Eye of the Rainbow."
Returning to the memory of Selma, it was as if even the tumblers were a reminder of the greater beauty that is ours when we respect and enjoy all the colours of life's grand picture.
Yes, Bob Hope, thanks for the memory.
© 2015 Warren Harbeck
JoinMe@coffeewithwarren.com