George Rogers' 9-pounder muzzle-loading rifle: a love story
COFFEE WITH WARREN, with Warren Harbeck
Cochrane Eagle, February 12, 2015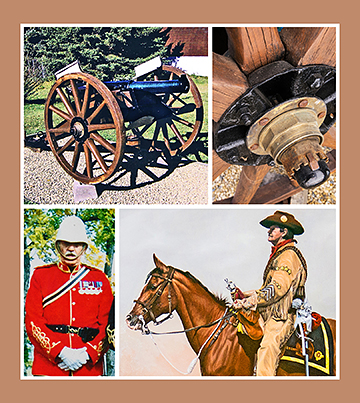 A 9-pounder muzzle-loading rifle, restored by George Rogers (on horseback, from a painting by Darren Haley) and his brother Walter (in red) from a pair of abandoned wheels, was their attempt to beat swords into plowshares. Photos supplied
Click for a larger version
When I was a kid, I thrilled to episodes of that popular radio series about Sergeant Preston of the North-West Mounted Police and his wonder dog, Yukon King.
In contrast to the gun-toting lawlessness that characterized so much of the settlement of the American West, the NWMP had established a peaceful presence in Canada's Yukon Territory in time for the arrival of the newcomers during the Klondike Gold Rush of the 1890s.
Indeed, I developed a love for the NWMP, predecessor to today's RCMP, never suspecting I'd meet a gentleman whose affection for them far exceeded my own – a love eventually symbolized by his restoration of an old cannon in the spirit of beating swords into plowshares.
George Rogers is one of the original members of the Steele's Scouts Commemorative Militia Cavalry, founded in 1977 to keep the memory of the NWMP alive. The troop have provided a proud presence since then at the Calgary Stampede, Spruce Meadows, and even way up in Whitehorse on the 100th anniversary of the NWMP.
I recently visited George at his home north of Cochrane. There he treated me to a memory lane of photos and paintings, including Bragg Creek artist Darren Haley's painting of him in his Steele's Scouts Trumpet Major uniform and mounted on his Anglo Arab, Trooper.
There were also photos of his brother Walter "Wally" Rogers, another member of the Steele's Scouts, wearing a red serge uniform at the Whitehorse event.
Ah yes, Wally. This brings me to the story behind the most prominent item in George's memory lane: a restored 9-pounder muzzle-loading rifle – the cannon – that sits on his front lawn.
The story of the cannon's restoration begins when Wally was given a pair of wheels from a 9-pounder that had originally found service in the Boer War of the later 1800s. He and a friend cast a new barrel and commenced the reconstruction following the original plans. When Wally died a few years ago, the cannon was turned over to George.
George, a customized brass and sheet metal worker by trade, spent a further couple of months bringing the cannon to its fully restored condition.
And sitting there on his lawn, it was no longer a symbol of war and destruction, but of his affection for his brother and for the peace-keeping legacy of the NWMP – indeed, a tribute to all lovers of peace and goodwill.
© 2015 Warren Harbeck
JoinMe@coffeewithwarren.com