A hummingbird lesson on comforting the grieving after suicide
COFFEE WITH WARREN, with Warren Harbeck
Cochrane Eagle, August 14, 2014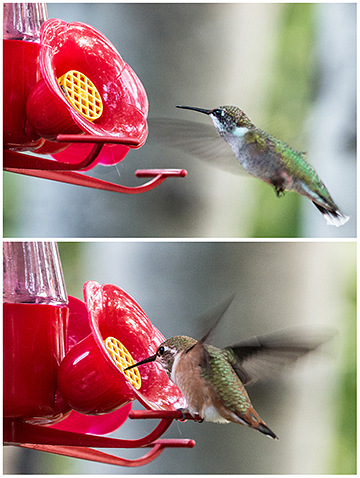 A hummingbird's visit to the feeder on Bev and Diane Pamenter's deck in Toki was a reminder about our role as God's instruments in comforting the grieving.
Photos by Warren Harbeck
The other day while I was visiting friends, a little bird told me something very important.
But before I tell you what he said, a response to last week's column on the tragic deaths of three members of the Stoney Nakoda First Nation at Morley.
"Your column is a very moving response to such loss," wrote Jim Hillson, formerly the pastor of St. Andrew's United Church in Cochrane, now retired and living in Medicine Hat.
"If prayer is our word for communion with God, then surely moments of sorrow like this drive us into the presence of God. I, for one, need to believe that God hears our agony. I am less certain that God has a lot to say to such agony. These are not occasions for the pat answers offered by theological pablum. If half of prayer is listening, then perhaps all that we hear from the Holy One is that, on days such as this, God's heart is broken, too."
Brokenhearted. So, just how are the brokenhearted to be comforted in such moments, especially in the case of suicide?
Passing judgment is anything but comforting, says Terry Fox about the suicide of her younger sister Kim Fox. In her eulogy for Kim at the Aug. 4 funeral, Terry, a PhD candidate at the University of Victoria, said:
"Kim loved her son (Mike, who died from a drug overdose) so much that she could not live one day without her Mikey. On the same day Mike passed away, our beautiful Kim took her own life. The most difficult death families have to deal with is when their loved one dies of . . . suicide.
"Suicide is especially hard because of the belief that some people have about what happens to the souls of people that have taken their own lives. Some people believe their souls do not go to heaven. When I think about circumstances and the people that have died of suicide, I have a hard time with that belief."
And I have a hard time with that belief, too. As Terry said at the conclusion of her remarks, "I believe that God will judge our sister Kim for how she lived, not how she died."
Meanwhile, how is God caring for the grieving?
This brings me back to what that little bird told me.
My wife being away for a few days, Diane and Bev Pamenter took pity on me and invited me to an early-evening dinner with them at their home in Toki, above Jumping Pound Creek on the southwest side of Cochrane.
We were discussing the grief in Stoney Country when a hummingbird joined us. It approached the bright red feeder near where I was seated along the edge of the deck, checked it out cautiously, and then enjoyed the treat Diane and Bev had provided for it. (See the accompanying photos.)
The presence of the hummingbird, together with Jim Hillson's words about God's empathy with the brokenhearted after a suicide, brought to mind Jesus' statement in the Sermon on the Mount about how God feeds the birds of the air. But wasn't it actually Bev and Diane who put out the hummingbird feeder?
Ah yes, I thought, God sometimes takes care of His creatures through human beings. He uses you and me from time to time as his instruments to set out the feeder.
Likewise, He cares for the grieving through you and me. Isn't that the point of the Prayer of St. Francis? "Make me a channel of your peace, Where there's despair in life, let me bring hope."
Yes, that's what the little bird told me: Just as Bev and Diane had provided food for hungry hummingbirds, we can be instruments of God's peace to the grieving who are hungering for comfort, both here in the Bow Valley and far away.
© 2014 Warren Harbeck
JoinMe@coffeewithwarren.com