Sunset whispers words of love to grieving Stoney Nation
COFFEE WITH WARREN, with Warren Harbeck
Cochrane Eagle, August 7, 2014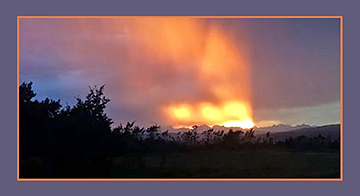 In the sunset over the mountains west of Morley on July 30 God spoke words of hope and comfort to listening hearts grieving the loss of three members of the Stoney Nakoda First Nation. Photo by Kandace Rose Kootenay
"When I go up the hill to pray I don't just talk to God," said the late Lakota Wisdomkeeper Matthew King in Harvey Arden's 1994 compilation, Noble Red Man. "I try to get the talking over quick. Mostly I'm just listening. Listening to God – that's praying, too. You've got to listen. God's talking to you right now."
That certainly seems to have been the experience of Kandace Rose Kootenay, of Morley, amidst last week's darkness of death that enveloped the Stoney Nakoda First Nation.
The week of darkness began on July 26 with the murder of Miranda Poucette-Lefthand, 49, in Calgary. Three days later in the wee hours of the morning, Michael "Mike" Snow, 27, died from an accidental overdose purportedly of OxyContin, cocaine and alcohol. Later that same day, Mike's mother, Candace Kimberley "Kim" Fox, 44, grief-stricken over the death of her only son, committed suicide.
Although all three deaths are tragic, I was especially distressed over Kim's. The daughter of my mentor and friend, longtime contributor to this column Elder Tina Fox, Kim was a colleague in the production of Stoney Nakoda linguistic materials for use in the classroom.
She was coordinator of Stoney culture and language programs for schools under the Stoney Education Authority. Her Master's degree freshly in hand, she was putting the final touches to a soon-to-be-published handbook on the Stoney language, for which I serve as consultant.
She was proud of her heritage, and was eager to motivate students and staff with whom she worked likewise to be proud of their Stoney-heritage-rooted identity.
That pride is reflected well in the opening quotation in the Preface to the handbook: Îethka henîcha ze gikthiyam, "Remember your roots."
Kim went on to explain that the language is the heart of this central teaching of the Elders. "When we celebrate our language we are indeed remembering who we are as Stoney people." Quoting her mother, she added: "If we lose our language, we lose ourselves."
The Preface closes with a core value in the Stoney way: Waûsiginabi, "compassion."
Which brings me back to how Kandace Rose Kootenay heard the compassionate voice of God speaking through the darkness, encouraging her likewise to be compassionate amidst the bewildering darkness of death.
Last Wednesday's breathtaking sunset over our beloved mountains inspired awe up and down the Bow valley. That was obvious from the many photos and comments our coffee companions shared on Facebook.
For Kandace, that sunset was more than beautiful. It was a word from God to members of her Stoney Nakoda First Nation that He had not abandoned them.
She took a photo of the moment with her cell phone, which I'm including with this column.
"My late Înâ would tell me, 'Grandchild, look at the beautiful sunsets,'" Kandace says. "'God gives us a new day always in this land to start over.'"
In the midst of her dismay over the loss of her three beloved relatives, God spoke to Kandace in that sunset, she says.
"I knew right then and there that God was at work. I knew at that point Miranda, Mike and Kim were in God's hands. I was at my worst, my grief overwhelming. But I knew that God was with me – such a majestic sunset! When my heart hurt so much, I was reminded of my teachings: each sunset brings a new day.
"That one sunset gave me the hope, the desire, the willingness to stand with my family, my friends, my community during a very difficult time.
"The Spirit of love was shining on Mînî Thnî (Morley). I am thankful to witness and capture such beauty to share with everyone."
© 2014 Warren Harbeck
JoinMe@coffeewithwarren.com