Shadows and reality: embracing eternity in space and time
COFFEE WITH WARREN, with Warren Harbeck
Cochrane Eagle, June 5, 2014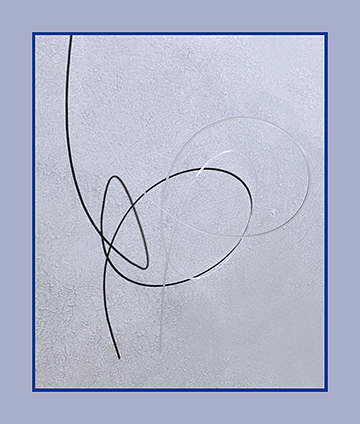 A picture-hanging cord against a bare wall suggested the dance between shadow and reality.
Photo by Warren Harbeck
A photographer/poet responded to last week's column on embracing beauty within the shadows with a slightly different take: embracing the beauty of life implied by the shadows.
Cochrane coffee companion Marlis McDouall has shared with us her creative thinking in previous columns. (All my columns are viewable online at coffeewithwarren.com.)
In our Aug. 8, 2013 column, for instance, she spoke in word and image of how she was "completely entranced" by the sun peeking briefly from beneath monster clouds near Dartique Hall, northwest of Cochrane.
Before that, on Nov. 7, 2007, we ran a poem of hers titled "Prairie Graveyards." It was her reflection on what some grave markers taught her about the value and the brevity of life. "All those gravestones are stark reminders / Of how easily life can be lost," she wrote, "And of people who've been here before us / To settle this land at great cost."
Well, this time it was words by another poet she wanted to share with us. "The first line of this poem got stuck in my head like a tune," she wrote.
Before we look at those words, however, I'd like you to look at a photo I took a while ago. You'll see how the poem and photo connect as we go along.
I was walking past a bare display wall when an intriguing curlicue caught my attention. Taking a second look, I found that there was actually a pair of balletic lines, formed by a picture-hanging cord and its shadow. It was clear that the cord was awaiting its turn to hang a fine painting. But which line was the shadow, and which was the reality?
First, however, Marlis's earworm. It was the opening lines of a poem by the late-18th century German philosopher/theologian Johann Gottfried von Herder:
Ein Traum, ein Traum ist unser Leben
Auf Erden hier.
"A dream, a dream is our life / Here on Earth."
The next few lines continue:
Wie Schatten auf den Wogen schweben
Und schwinden wir
Und messen unsre trägen Tritte
Nach Raum und Zeit;
Und sind (und wissen's nicht) in Mitte
Der Ewigheit.
"Like shadows on waves we float / And disappear / And measure our slow steps / By space and time; / And are (without knowing it) in the midst / of eternity."
Picking up on the image of transitory shadows on waves nestled within unbounded eternity, she said:
"The thought that our life here on earth is in the midst of eternity already is liberating and could give mankind a much-needed change of perspective."
In a subsequent coffee chat, Marlis, a self-professed non-religious person, explained how von Herder's words gave her a deeper appreciation for the reality of immortal Spirit within the ephemeral shadow of her mortal frame, and within each of us.
This recognition is a call to love, she stressed – a love that looks beyond our brief material exterior bound by space and time. From it comes an awareness that this station of our existence called life is already part of eternity.
To use the metaphor I've been employing for the past couple of years, what I heard her saying was that we have in us the power to "fan" the embers of each other's soulish longings for genuine life. And this power is the time-tested gift of love.
But that requires distinguishing shadow from reality, it seems to me. Which brings me back to the photo of the curlicues on the wall.
Yes, a cord on which to hang a fine work of art. But which line is the real cord, and which is its shadow?
If you think the darker line at the left is the real cord, don't gamble your Rembrandt on it. It'll come crashing to the floor.
The real cord is the fainter one at the right. Though not as "showy" as its temporary shadow at the left, the fainter cord is the one that's truly worthy of being entrusted with your treasured painting.
You see, the cord at the right is made of nearly invisible nylon. But its presence becomes much more apparent by its shadow cast briefly on the wall by the bright sun shining through a window across the room.
The shadow of the cord implies the existence of the real cord, but is not itself that reality.
The shadow exists in space and time and will dance on the wall only briefly till the sun's rays point elsewhere. Then the shadow vanishes, like the shadows on von Herder's waves. But the Reality remains in all its beauty.
© 2014 Warren Harbeck
JoinMe@coffeewithwarren.com