Readers respond with monster clouds and heavenly splendour
COFFEE WITH WARREN, with Warren Harbeck
Cochrane Eagle, August 8, 2013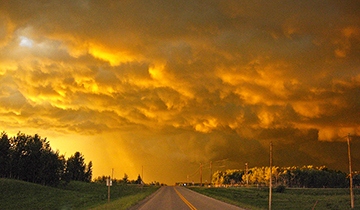 The setting sun peeked from beneath monster clouds near Dartique Hall and left skywatcher Marlis McDouall "completely entranced." Photo by Marlis McDouall
Click for a larger version
"Nothing short of heart-stopping" was how our thundercloud-loving coffee companion Marlis McDouall described a stormy display heading toward Cochrane recently.
Marlis captured the moment in a photo she emailed me in response to last week's column on summertime clouds and vivid imaginations.
"I love clouds and, like you, I very often see animals in them," she wrote.
But there's one kind of cloud she especially loves.
"The approach of thunderclouds makes my heart sing," she said. When she encountered a mass of dark, angry clouds northwest of town at the end of June, however, she wasn't sure whether to sing or flee.
"Not long ago, I almost thought I had gotten more than I'd bargained for," she said. "Very suddenly a monster of a cloud was approaching from the north. I have rarely seen anything quite like it.
"What was so special about this moment was that the setting sun had found a way to peek out from underneath these monster clouds near Dartique Hall. The ensuing light was nothing short of heart-stopping. I stood there completely entranced.
"Then I remembered to take some photos. I shot the attached photo looking north up Horse Creek Road.
"In no way does this replicate the full splendour of the clouds and the countryside touched by this otherworldly light, but it serves as a reminder of one exciting Saturday afternoon in late June when I had actually been trying to outrun that giant thunderhead."
By the way, she added, "the hail that fell elsewhere that day never touched me, nor did a single raindrop."
But the beauty of her photo and description has certainly touched me.
As have responses from some of our other readers.
Calgary coffee companion Jeanne Hammer, for instance, wrote of how she has been a cloudgazer all her life, seeing shapes like polar bears, whales, and especially meaningful to her, "a beautiful dove" which gave her comforting thoughts about her recently deceased mother.
Not only do cloud-borne images of animals provide comforting memories for another of our readers. They also affirm his calling as a Presbyterian pastor – my own pastor, in fact, prior to my move to Alberta in 1965.
Rev. Jim Hills wrote from Niagara-on-the-Lake, Ont.:
"When I was a young boy, I would sit on the limestone rocks on the shore of Lake Ontario at Kingston and I would find clouds that portrayed messages to my imagination. I was fond especially of finding gateways in the clouds through which I would imagine the return of Christ at the end of the age (I still do!)."
I'll close for now with this note from Cremona reader Kathie Reid:
"I am continually in awe of the creativity of God! Every cloud is different and continually changing. By this Hand of creativity we are treated to unlimited splendour every day – just by looking up!"
Thank you, readers, for these reminders to keep looking up.
© 2013 Warren Harbeck
JoinMe@coffeewithwarren.com