Bigland's life-enlarging legacy recalls reader's Camino
COFFEE WITH WARREN, with Warren Harbeck
Cochrane Eagle, May 1, 2014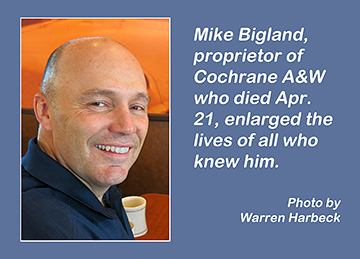 Few people have so impressed me with their ways of enlarging the lives of others as Mike Bigland.
Mike, the ever-affable proprietor of Cochrane A&W, passed away on Apr. 21 after a long fight with cancer. His legacy of making others feel valued in his presence will not pass away.
I learned of his death after I had already sent last week's column to press. That column was a celebration of folks who so graciously serve us coffee and tea in our local cafés. It was inspired by an article by Cochrane author David Irvine on the importance of enlarging the lives of others, which in turn was inspired by the view of corporate leader Pete Thigpen that enlarging the lives of others is, after all, our "reason for being."
There could be no finer witness to the wisdom of that view than Mike's life.
Mike was a team player who valued and inspired others of all kinds of backgrounds and interests. That was clearly evident last Saturday at his memorial service at Cochrane Alliance Church, where not an empty seat was to be found.
In addition to family and lifelong friends from far and wide were a whole community of folks who revered him as a neighbour, employer, and antique car enthusiast.
Two rows of young people at the very front of the church were dressed in their Bow Valley Timberwolves midget AA hockey-game finest in tribute to their beloved head coach. (See Brendan Nagle's stirring article in the sports section of last week's Cochrane Eagle, p. 46.)
For my part, I had come to know and admire him primarily through my always-positive encounters with him at the A&W.
Here was a boss who led by example, always smiling even when he was out in the parking lot picking up wind-blown papers, washing windows, serving coffee, or – his favourite pastime, I think – visiting with his customers at their tables. Here was a man truly blessed with a listening heart.
Nor would ever a bad word about others come from his mouth. Just the opposite! As Mike said in my Father's Day column last year honouring old-timer Walter Wearmouth (June 12, 2013), "Walter unknowingly mentors me and I aspire to be as good a man."
And that's absolutely Mike's legacy to me.
Less than a week before Mike's passing I had coffee with Pat Klinck, of Calgary, an organizational team-building consultant who was in full agreement with David Irvine's position on enlarging the lives of others in the workplace.
But she's increasingly well known for how a 36-day special event of a non-corporate kind enlarged her own life. She made the 800-km pilgrimage along the Camino De Santiago from France through Spain, the subject of her book, Each Step is the Journey (Kingsley Publishing, 2013).
Along the way she was embraced by the life-enlarging legacy of generations of pilgrims who had walked that same path.
"The Camino has been walked for centuries," she told me. "You always have companions, present and past. You are not alone. At a deep level, I began to understand and gain a clearer knowledge of myself.
"The Camino is a pilgrimage, a walk to a sacred place. There are many who walk to have that experience, and there are others, like me, who came as skeptics, agnostics.
"We all walk for the moments of beauty, and there are many. What changed for me was my experience of the spiritual; it profoundly enlarged my life. I came to accept – no, to embrace fully – the spiritual in each of us."
In reflecting on Pat's words and relating them to Mike's life, I would have to say that at the heart of his legacy was his special way of mentoring us in embracing more fully the spiritual in each of us. He enlarged our lives through companionship – through friendship – in our own personal pilgrimages, whether at home, in the arena, or enjoying his hospitality over coffee.
At Mike's memorial service, Pastor Jason Koleba closed with a most fitting observation: "Mike was gifted at providing a space for friendship."
Yes! And now we hold a space in our hearts for the legacy of Mike's friendship. After all, isn't true friendship always about enlarging the lives of others? And like pilgrim-companions from ages past, Mike will continue to enlarge ours.
Thank you, Mike.
© 2014 Warren Harbeck
JoinMe@coffeewithwarren.com