Priest overcomes hate in quest for authentic spirituality
COFFEE WITH WARREN, with Warren Harbeck
Cochrane Eagle, April 3, 2014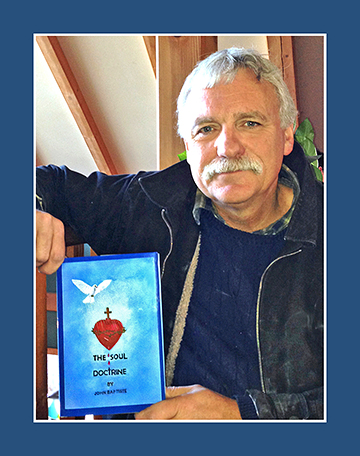 Bragg Creek author Jim Amsing (writing under the pen name, John Baptiste) draws on his years of experience as a police officer and chaplain in his recent novel, The Soul Doctrine. Photo by Warren Harbeck
Last week's column on the closing of Bentleys Books in Cochrane referred to several local authors who have, in psychologist Carl Jung's words, embraced the joy of "kindling light in the darkness."
There's another local author who is kindling light in his own special way. Before I tell you about him, however, I want to share a beautiful footnote to my column on Bentleys Books.
When I stopped by Bentleys on its final day, owner Mary Lou Davis was busy wrapping things up with the help of some of her loyal fans. One of those fans was our Cochrane coffee companion Julie Stover, teacher and former member of the store staff.
Julie had carefully prepared a tribute to the bookstore, and to Mary Lou in particular. She had inserted it into the guest book on the counter. I found one statement especially moving:
"The books are visible and state the purpose of the space as you walk in," Julie had written. "But look closer. Beyond this exterior of paper and print is a respite, an oasis, a master class, where you can witness the intelligent wisdom, strength and resilience of its owner, Mary Lou."
I couldn't agree more.
And now back to this week's topic: Bragg Creek writer Jim Amsing and his 2013 novel, The Soul Doctrine, published under the pen name, John Baptiste. (Here I must make full disclosure: my wife and I had a hand in the book's editing.)
Jim's a retired Calgary police officer, chaplain and co-founder of Diakonos House, a retreat for police officers under stress.
In this book, however, it's not a police officer who is under stress, but a falsely accused Catholic priest named Joe.
"Joe Thomas wants to follow in his father's footsteps as a Baptist pastor, but finds minefields in controlling his fleshly passions and struggles to follow the path into spiritual maturity," Jim says.
The book opens with Joe's journey through his high school years, cowboy experiences, college, spiritual quest and eventual calling as a Catholic priest.
After entering the priesthood, a couple of young girls falsely accuse him of pedophilia and he winds up in jail, where he is sexually assaulted and contracts AIDS.
Thus begins the next step in his journey, a greater journey that takes him "into the heart of authentic spirituality."
I've known Jim as a personal friend for nearly 20 years. The insights he brings into Joe's journey into the Catholic Church are well informed by his own journey as an adult convert to Catholicism. In fact, the chapters on Joe's exploration of early Christianity and the teachings of the Church Fathers sound to me very much like what I know of Jim, although he denies that this part of Joe's story is autobiographical.
Especially compelling are those chapters that draw from Jim's own experiences as a police officer. His understanding of the law, the courtroom, and prison life makes for vivid writing – sometimes distressingly so.
But it's his understanding of human nature in its ambiguities and proneness to passing judgment that makes the heart of Joe's story so important for the rest of us. How is Joe to respond to his tragic circumstances? How is he to respond to the indifference of people in authority who should have known better? To his victimizers?
I guess you'll have to read the rest of Joe's story for yourselves. But since Bentleys Books is no longer open, you'll have to order The Soul Doctrine directly from the publisher, FriesenPress, at friesenpress.com; click on Bookstore and search by title.
© 2014 Warren Harbeck
JoinMe@coffeewithwarren.com