Farewell to a friend full of wisdom, wonder and adventure
COFFEE WITH WARREN, with Warren Harbeck
Cochrane Eagle, March 27, 2014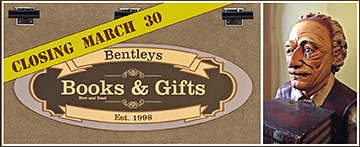 Is that a tear in the eye of Bentley, the Bentleys Books "butler" who has welcomed customers for the past 16 years? Sadly, the iconic dealer of books new and used is closing its doors forever on March 30.
PhotoArt by Warren Harbeck
It was with deep sadness that I arrived at Bentleys Books over the weekend. Cochrane's iconic merchant of mysteries, romance, wisdom and wonder was closing forever this Sunday. (See March 13 Eagle.)
As I stepped inside, owner Mary Lou Davis's faithful "butler" Bentley stood statuesquely in the corner, volumes of adventure in his arms. Was I imagining a tear in his eye? The ever-welcoming greeting from one of the staff also seemed less cheerful than usual.
I glanced briefly at the crystal giftware in the window display. Some of its deep blue pieces from times past grace my office now.
Moving past the newspaper rack by the counter, I browsed once more through the wide assortment of used paperback novels. Several of its Tom Clancy thrillers have engaged my recreational reading over the years.
Then near the back of the store, there was the diminishing assortment of used word-lover's books, the source of several of my own writer's references, including the outstanding two-volume 1987 edition of The Shorter Oxford English Dictionary.
And even though a store-wide sale had been underway for several weeks, there were still some new and used science, self-help, travel, religion, art, craft and home-décor books available along the far side, including a feature section of Canadiana.
Of course, one of the special benefits of Bentleys Books to our wider community has been its promotion of local authors.
I've attended so many of the store-sponsored book-signings where I've had a chance to chat with Cochrane-area authors, young and old alike, who have committed to paper the stories of our natural and human heritage, as well as the products of their rich imaginations or their world-wide journeys to mountain tops and along pilgrim paths.
Passing between racks of cards and CD's, I returned to the counter, purchased a newspaper, and took one last look at the store's chalkboard of wise sayings near the cash register.
It was still on the board, the quote from psychologist Carl Jung I referred to in my Jan. 23 column: "The sole purpose of human existence is to kindle a light in the darkness of mere being." And I thought to myself, isn't that also the purpose of authors, books and bookstores, too – "to kindle a light in the darkness of mere being"?
As I was about to leave, I glanced to the right of the quote. Facing me was a selection of books by local authors who have indeed embraced the joy of kindling light in the darkness.
There were Martin Parnell's Marathon Quest about his record-setting runs for charity, J. Neven-Pugh's Dragon Tail Series of young adult fantasy novels, and SK Irmen's My Mind Keeper about her encounter with MS at the age of 31.
And then there was a hard-to-find copy of Round-Up '94: a Collection of Poems and Stories by Members of the Cochrane Log Cabin Writers League, published by recently deceased Ray Schmidt.
A short essay by Ray's wife, Nora Schmidt, especially caught my attention because of its sense of nostalgia I'm indulging in for this week's column, so I bought it as my final purchase.
In "Grandma's Button Box" Nora recounts her experience of going through her random collection of salvaged buttons – "over 100 years of family history," she said, "a trip down memory lane, recalling what the buttons had been on and where the garments had been worn."
I could identify with Nora's nostalgia, but as I bade farewell to Bentleys Books, it wasn't buttons, but a bookstore that took me on my trip down memory lane.
We will miss you, Bentley. And we will miss you and your staff behind the counter, Mary Lou. Thanks for your contribution to our own ongoing journey.
© 2014 Warren Harbeck
JoinMe@coffeewithwarren.com