So, what do the Olympics have to do with the afterlife?
COFFEE WITH WARREN, with Warren Harbeck
Cochrane Eagle, February 20, 2014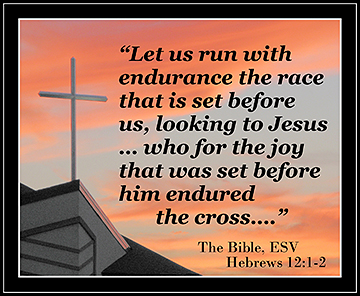 The cross atop Cochrane Alliance Church at sunset points to the example of Jesus for facing life's trials and struggles. Photo by Warren Harbeck
One final column on how our views on the afterlife relate to our lives here and now. This week: Muslim, Baha'i and early Christian perspectives, and then an Olympics lesson I experience daily around town.
Author David Liepert offered a Muslim view:
"Heaven/Paradise helps me be a better person," he responded. "Since charity, kindness, forgiveness and patience towards others constitute two of the eight 'gates' to Paradise, I always try to be charitable, kind, forgiving and patient, in hopes that will help me get there!"
The other six gates into Paradise, David explained, are prayer, jihad (struggle), fasting, participation in Hajj (pilgrimage), faith, and zeal in honouring God.
For a Baha'i perspective, development learning specialist Michael Bopp, of Cochrane, wrote:
"Baha'is believe that the life of the soul continues after death, and that the soul continues to progress and develop until it reaches a state and condition that enables it to attain the presence of God. However, the condition of the soul as it leaves this world can vary considerably, depending on the spiritual qualities (such as love, kindness, compassion, wisdom, honesty, courage, humility) a person has developed during this life.
"A life that ignores this developmental journey can be compared to a fetus in the womb of his mother deciding not to grow eyes, ears, arms and legs because they are of 'no use' in the world of the womb. Eventually the fetus experiences a 'death' from the womb world as he is born into this much wider, more beautiful world we all know. Unfortunately, because of his decision to refuse to grow eyes, ears, arms and legs, he is severely handicapped, and his further progress and development become much more difficult."
Cochrane reader Sharon Mogen, a PhD student in Christian antiquity at the University of Calgary, offered a perspective among fifth-century Christian believers.
For Christians of the Early Middle Ages, by and large Roman, "the emphasis was on a client-patron alliance with those who went ahead into the afterlife," she said. This included having "the support of the 'holy dead,' the martyrs and saints, who would intercede on behalf of the Christian 'client,'" especially if the client were buried in proximity to the holy dead. Others, such as St. Augustine, however, "insisted that being buried in proximity to a holy martyr was of little value; only living a righteous life, accompanied upon death with the prayers of the living, would assist the dead in achieving resurrection into eternal life."
Of particular importance was the concept of "family" among Christians of that period, Sharon added. "Consequently, the early Christian Church was seen to comprise an overarching Family, a communion of God in heaven (in the persons of the Father, Son, and Holy Spirit), all the heavenly host of angels, the holy saints and martyrs (those human beings of the most perfect sort, having already won the battle and received the eternal prize), and the living still engaged in their earthly quest for a glorious, peaceful afterlife."
This brings me back to Cremona reader Kathie Reid's question that began this series of columns. Having just come through a particularly challenging year strengthened by the hope of heaven, she wondered how heavenly mindedness affected the lives of others.
I'd like to bring this series to a close for now by referring to an answer to Kathie's question that inspires me every time I drive home from the post office. It's the cross atop Cochrane Alliance Church, especially at sunset. And it reminds me of Jesus' example as found in the biblical Letter to the Hebrews (12:1–2).
That letter was addressed to early believers struggling with persecution for their faith and tempted to give up. Using a metaphor with which fans of the Olympics can readily identify, the passage reads: "Let us run with endurance the race that is set before us, looking to Jesus . . . who for the joy that was set before him endured the cross . . . ."
No Olympian who dreams of gold dare give up, not in training, and certainly not in the crucial race. Jesus didn't give up, but went all the way for the human race.
© 2014 Warren Harbeck
JoinMe@coffeewithwarren.com