How do views on afterlife affect life this side of grave?
COFFEE WITH WARREN, with Warren Harbeck
Cochrane Eagle, January 30, 2014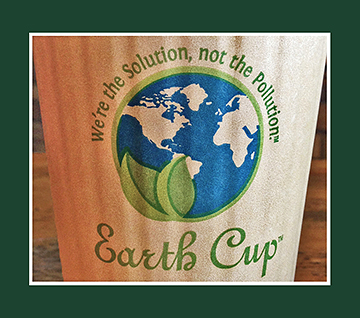 Disposable cup at Cochrane Coffee Traders proclaimed afterlife wisdom for this-life living.
Photo by Warren Harbeck
Tea leaves have nothing over what a disposable coffee cup said to me the other day at Cochrane Coffee Traders.
It was almost as if the cup had been eavesdropping on a conversation I was having with some friends about how thinking about the afterlife relates to our lives in the here-and-now.
But let me start from the beginning.
A few weeks ago Cremona reader Kathie Reid, a deeply committed Christian, wrote me that the year just past had had its challenges. "There are some phases of life when the best Bible verse is, 'It came to pass,'" she said.
"My son asked, 'What was your favourite year?' The first thing that came to mind was 2013; I learned so much and I never have to repeat it!"
I sympathized with her, citing Erma Bombeck's great line, "If life is a bowl of cherries, what am I doing in the pits?" (The title of that hit song from back in the 1970s also came to mind: "I Didn't Promise You a Rose Garden.")
In that spirit, I reminded Kathie of what Jesus did and did not promise His followers:
His proclamation of the Good News was not at all about bowls of cherries, rose gardens, or even imminent political liberation from the Romans, the political masters of the Jewish nation in Jesus' day. In fact, His message promised nothing short of a cross in this life for those who chose to follow Him.
No, His message saw beyond material/physical discomforts to a heavenly citizenship that required patience in the here-and-now while awaiting the fullness of the Hope.
Thus began a wider conversation that just does not want to end.
Reflecting over Kathie's comments, I personally came to realize anew that Jesus did, indeed, proclaim liberation – but not a liberation from political tyranny or struggles.
His was a proclamation of liberation from fear – fear of death and what lies beyond; fear and worry over material issues associated with this life. And in that kind of liberation, by the grace of God, He set His followers free to pursue their true identity as renewed images of God in the here-and-now. His signature phrase? "Fear not!"
Here I must stress that Jesus really doesn't give us many details about heaven or what our life will be like there – though it's clear that heaven is understood to be the domain of God. But He does say a great deal about what our lifestyle should be like this side of the grave, the domain of mortals.
What is abundantly clear from His teachings is that this life is not to be characterized by a self-absorbed attitude of self-indulgent, materialistic worries, game-playing and hoarding, with indifference toward the needs and concerns of others.
In fact, He calls people blatant fools if they "store up treasures for themselves but are not rich toward God" (Luke 12:16–21). In the Sermon on the Mount (Matthew 5–7), He sets forth a higher priority for our lives here: Stop worrying about what we'll eat or wear, because the Father knows we need those things. Rather, be embraced by God's own merciful ways and reflect them in our day-to-day living.
That is, we are to accept the truth that God, by His grace, has taken care of our afterlife, about which we know so little, and calls us to live our temporary life in the here-and-now, about which we know a great deal, with an attitude of gratitude that expresses itself through love.
And this is where the environmentally friendly disposable coffee cup spoke to me the other day. Above its brand identification, "Earth Cup," was inscribed its trademarked slogan: "We're the Solution, not the Pollution."
From my perspective as a Christian, that cup made me realize once more that we are to be cups of blessing on earth, not adding further to life's narcissistic pollution of struggles, disappointments, challenges and self-interest, but contributing to solutions in a humble, grateful spirit of faith, hope and love.
How does that relate to Kathie's thoughts? "Heaven gives me a reason to seek the best, and to help and pray for the best in others," she said. "When I look forward to the Life After, I have less fear of what the life here may bring."
She wonders what our other coffee companions think about how one's views on the afterlife affect how we live this side of the grave. She's especially interested in how followers of other religions think about this relationship of heavenly thinking to earthly living.
Well, readers, what do you think?
© 2014 Warren Harbeck
JoinMe@coffeewithwarren.com