Readers respond on heavenly thoughts for earthly living
COFFEE WITH WARREN, with Warren Harbeck
Cochrane Eagle, February 6, 2014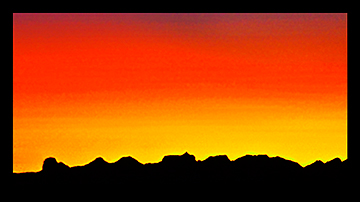 Hope beyond the sunset inspires life this side of the grave.
Photo by Warren Harbeck
Last week's column opened a conversation on how one's views on the afterlife affect life this side of the grave. So many of you responded I'm staying with the topic for a couple of weeks.
The conversation began with Kathie Reid, of Cremona, describing how her Christian anticipation of a hope-filled afterlife enabled her to face with less fear a particularly difficult year just past. I agreed with her, noting that the heart of Jesus' message was hope-based liberation from fear.
But don't forget forgiveness, Armstrong, BC reader Bob Crozier, responded. Hope is made possible only because of forgiveness – that Jesus, the One who was wronged, sacrificially forgave the wrongdoer, thus reconciling God and sinner, and calls His followers to a lifestyle of forgiveness in this life.
To forgiveness Oakville, Ont. reader Helen Hare added the element of endurance in the here-and-now, "remembering how much more Jesus had borne" than any burden we may bear.
Darryl Klassen, coordinator of the Mennonite Central Committee's Aboriginal Neighbours Program in BC, sees continuity between this life and the next. He wrote:
I believe that Jesus taught that the afterlife is just a continuation of this life. By this I mean that the choices we make today will be the choices we are permitted to continue making after death. Are our faces turned toward God, or away from God? The trajectory we set now will be the trajectory we are permitted to pursue after death.

If I choose hell now, living for pleasure at the expense of others in any of its myriad forms, then I won't magically change at death. No, I will be given the opportunity by a loving God of continuing to choose hell. To be the master of my own deprived existence . . . what's left of it.

If I begin to choose heaven now, then by the grace of God, I will at death, as I do now, cast myself willingly and eagerly into His loving arms, heaven.
Not surprisingly, Darryl's view overlaps with that of Stoney Nakoda First Nation traditional elder Tina Fox, of Morley, who wrote:
Our teachings tell us to be kind, helpful and respectful, putting others before ourselves, and to be humble, and not be boastful or arrogant. We are taught to acknowledge the Creator and give thanks to Him every day. What we do, good or bad, will catch up to us in this life or the afterlife. Therefore, we conduct our lives in such a way as to have only goodness catch up to us here or in the next life. That's how our belief affects our everyday life.
Larry Spackman, a prominent leader of the Church of Jesus Christ of Latter-day Saints (the Mormons) in western Canada, said of the relationship between this life and the next:
For Latter-day Saints, the life after this mortal life is what we look forward to. We regard this life as a brief, but very important, part of our eternal existence. We believe we lived before this earth life with our Heavenly Father as His spirit children, that He sent us to this earth to receive a physical body and be tested to see if we could live by faith and become more like Him. After this life, we will return to Him, be resurrected, and be rewarded for how we live in this life.

We are encouraged to try and develop an "eternal perspective" in this mortal life, or to keep the next life as an important objective, so that we will live our lives the way God has commanded. We know this life has many challenges that will test us, but keeping an eternal perspective helps give us purpose and hope.
From a very different perspective, Angus McNee, a former mayor of Ghost Lake Village now residing in the Okanagan, alludes in his response to Jesus' statement, "in my Father's house are many mansions":
I believe that you and I and everyone around us are the "mansions" in which we live every day of our lives. That who we are, and what we do, and what we think and say, and how we treat those around us affects what those around us ultimately become.

No, I don't think we're going anywhere, no palace in the sky, no Garden of Eden, no pearly gates or harpists to welcome us. Our heart will stop, our eyes will close, and our brain and all our organs will cease to function. We will be dead. But how we lived will continue forever – through those whose lives we touched.
More responses next week. Stay tuned.
© 2014 Warren Harbeck
JoinMe@coffeewithwarren.com