Passion allows panelist to know that she, too, is alive
COFFEE WITH WARREN, with Warren Harbeck
Cochrane Eagle, January 16, 2014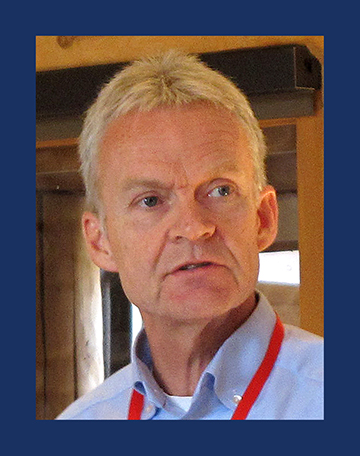 Co-host David Irvine invited panelists to consider the "sweet spot" where passion and ability intersect.
Photo by Warren Harbeck
"Connecting to your sweet spot in your work and life, and supporting others to do the same," is pivotal to "connecting to your sense of purpose."
With these words David Irvine opened last Friday's Cochrane IDEAS Society panel discussion, "Creativity, Imagination and Passion – in Life as in Art."
David, a popular author/speaker on authentic living, graciously joined me at the last minute to co-host the event I wrote about last week.
A frequent motivating presence in these columns, he is passionate about people finding the kind of purpose-filled life they truly love – about finding their "sweet spot" where passion intersects with their abilities. (See my column of Sept. 10, 2003.)
In the spirit of our town's coffee culture, the four panelists and members of the audience proceeded to share their own views on the "sweet spot."
Panelist Chris Stanley, founder of C Beyond Success, recalled a walk he'd taken once among the epitaph-engraved grave markers in a famous church cemetery in England. They caused him to reflect on how he really wanted to be remembered. And it was not about fame and fortune or win/lose, but about a "middle way" of possibility-thinking in which questions of failure had no place.
Dara Dines, expressive arts consultant/educator, stressed the importance of engaging one's imagination in such matters. Sharing a paragraph she had written on passion for the occasion, she stressed the important role we can all play as "peaceful motivators" in the lives of others; but first we must be open to a change within ourselves to create lives and art that are truly felt.
Jack Blair, writer/photographer, noted how "we all want to leave something behind," and what that legacy meant for him was "creating." He shared how changes in technology since his earlier career as an engineer/consultant have made much of what he did obsolete and all that remains are memories. So he picked up the camera and pen. "Creativity makes things last."
Robert Kelly, professor of art education and author of Educating for Creativity, emphasized that passion, properly understood, is about being "intrinsically motivated," motivated from within ourselves and not by the pressures of others. But to achieve a creative contribution that can truly make a difference in our "culture of consumption," we need to embrace collaboration with others.
Audience participation was immediate and lively. Several emphasized the need to think about "the good" wherein the enduring benefit to others is important and the individual is not simply caught up in self-indulgence. As Toki resident Bev Pamenter put it, "Creativity by itself is not enough." But this sometimes means taking the risk of going against the current.
My own conclusion to the evening's discussion was taken from something Chris Hadfield said about why he is so passionate to tell his own story related to his time as commander of the International Space Station:
"I'm not trying to sell people something," the iconic Canadian astronaut and cosmic photographer said. "I am trying to share the wonder of this entire experience with them."
Yes, the whole evening was exactly about what my co-host David Irvine proposed: sharing the wonder of our "sweet spot."
And for panelist Dara Dines, that passion-nourished sweet spot is life-affirming, as she noted in the beautiful paragraph about passion she read aloud to us during the meeting. I'll conclude this week's column with Dara's words:
Passion: She is a powerful motivator. She is the one who gets me up in the morning and out the door. Not in a rude loud sounding way like an alarm clock, because she knows what I love.

Passion will gently open the window so I can smell the fresh air, hear the birds sing and see the sun rise over the big hill.

Passion has got me to save up all my pennies, overcome my fears and fly halfway around the world to catch a glimpse of what she thought might feed my soul.

Passion has even awakened me on a cold, dark night just so that I would see the bright hot lava pour out of a giant mountain and feel the ground rumble underneath me.

Passion lets me know that I am here, right now. That I too am alive.
© 2014 Warren Harbeck
JoinMe@coffeewithwarren.com