Disaster prompts reader to embrace joy of life more fully
COFFEE WITH WARREN, with Warren Harbeck
Cochrane Eagle, September 26, 2013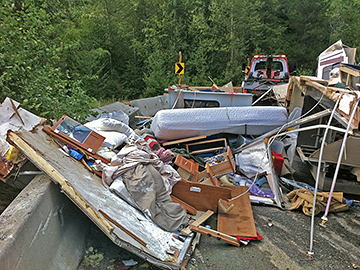 David and Melanie Ambrose lost nearly all their earthly possessions when their brakes failed while descending a steep mountain highway in BC while pulling their fifth-wheel trailer. Photo by David Ambrose
Sometimes it takes a major loss of material things to awaken us to the true joy of life.
Such was the case recently when two of our readers were descending a steep mountain grade along a BC highway. There were many switchbacks, and David Ambrose and his wife, Melanie, were towing a fifth-wheel trailer containing everything they owned.
Then their brakes failed.
I first met David seven years ago at a writers breakfast. Soon thereafter, the South Africa-born author and I reconnected at Cochrane Coffee Traders, where he shared with me his philosophy for happiness based on the Xhosa/Zulu concept of ubuntu (see my column for May 3, 2006).
Responding to my starry-night column of Sept. 12, he sent us this vivid account of their BC disaster-turned-blessing:
Your inclusion of images of camping, the wonder of nature and "embracing the joy of life more fully" prompted me to write.

To set the scene and connect the images you evoked in us, we have spent the past two years travelling around Canada in our truck and fifth wheel. At every stop, we were amazed by not only the crystal clear starry nights in the countryside, but all the other wonders of nature that are scattered around this great country.

On July 28, a Sunday, we were travelling through BC on our way to Vancouver Island, when, coming down a very steep section of the Duffy Highway towards Pemberton, we came to a treacherous switchback . . . and my brakes stopped working. With our seven-ton home pushing us onward, I instinctively tried to take the bend, but it was never going to work. Physics took over, and the fifth wheel started tipping over and took the truck along with it – seemingly in slow motion.

Next thing we knew, my wife, Melanie, and I were strapped in our seats, on our sides, seeing a totally unfamiliar world. Everything was in the wrong place, the windshield was totally smashed . . . but we were both alive.

We both survived, almost intact, from this violent accident and walked away.

We pretty much lost everything we owned, but we were alive and reasonably well. While our rig was sliding on its side around the curve, up against the concrete barrier, both Melanie and I felt a kind of calmness, a presence there with us. When we stopped moving, it disappeared. From the next day, we dropped the word "accident" from the event and started calling it the "Miracle on Duffy Highway."

We had a number of really wonderful, generous people stop to help us immediately after the accident: an off-duty policeman and volunteer firefighter, an off-duty paramedic, and another guy with a very calming voice all appeared within minutes, and many others helped us over the first few days. We'd read about how kind and giving Canadians are, but up until then had never been on the receiving end of it. We were, and still are, blown away by this.

So after all this, we are "determined to see the starry night with new eyes and to embrace the joy of life more fully than ever."

—David Ambrose, Squamish, B.C.
In a postscript to David's email, Melanie commented at length on the amazing helpfulness of total strangers during this encounter with the joy of life through disaster.
"We just cannot express our thanks for all their help," she wrote. "They made an unbearable situation bearable and it is so typical of how Canadians are. The love and understanding we got that day was just so overwhelming. We do not have any family – it is just the two of us – and so they all told us that they would be our family for the day."
For more photos (cell phone and small camera), click here. For a great read of Melanie's detailed account of this adventure on her blog, click here. It is filled with beautiful lessons in the joy of neighbourliness.
© 2013 Warren Harbeck
JoinMe@coffeewithwarren.com