Camping, starry nights, fading embers and the joy of life
COFFEE WITH WARREN, with Warren Harbeck
Cochrane Eagle, September 12, 2013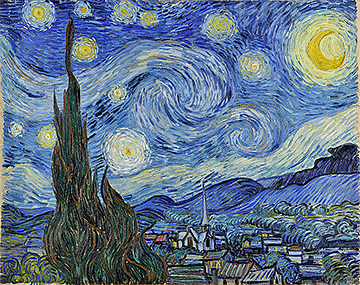 Dutch post-impressionist artist Vincent van Gogh's 1889 painting Starry Night has inspired many to see the night sky with new eyes and active imaginations.
Photo public domain
What is it about the interplay between experience and imagination that is so vital to our embrace of the joy of life?
This question is prompted by a conversation I had this week with two of my favourite coffee companions.
I was meeting with HR consultant Lori Craig at Cochrane Coffee Traders. We were supposed to be going over our notes on a book we're co-authoring on fanning the embers of each other's souls.
We never got around to it – or so it seemed at first.
Lori began telling me about the wonderful camping holiday she and her husband, Joe Pasternak, had just returned from. There was their exploration of a remote hot spring in the Kootenays, for instance, where total strangers became instant friends over an evening of food, fun and their shared love of the great outdoors.
Then there was that not-so-happy adventure the next morning when their vehicle broke down, leaving them stranded.
Stranded, that is, until one of those stellar "strangers" of the night before just happened to come along with his flatbed truck, loaded their ailing vehicle onto it, and drove it and them all the way back to their home in Calgary.
Now, that's real Western Canadian hospitality for you!
No sooner home, they loaded up another vehicle, headed southwest of Calgary and set up camp in the Porcupine Hills, legendary for its Douglas Firs, Rough Fescue grasslands, and Cowboy Trail ranching heritage.
It was a perfect evening under a cloudless sky. Lori was nearly in ecstasy as she described the transformation from the fading glow of dusk into an awe-inspiring star-studded canopy.
"I'd never seen the Milky Way so clearly in all my life," she said.
About this time, another of our coffee companions, Chris Stanley, who was sitting at the next table, pulled his chair over to ours and joined the conversation. A motivation consultant specializing in successful living, Chris picked up on the excitement at our table and wondered what was going on.
Lori explained about a piece of music that came to her mind while camped under all those stars – a piece that often comes to my own mind at such times: Don McLean's "Starry, Starry Night." (Just the mention of that piece moves me deeply!)
The three of us soon got to talking about how McLean composed his piece as a tribute to Vincent van Gogh, the Dutch artist who was so inspired by the starry sky outside his sanitarium room window that he painted Starry Night, one of his best-known works. He was in the sanitarium recovering from a breakdown. Through his encounter with what he termed a "star-spangled sky," he came to appreciate more fully the healing freedom of imagination that came to characterize his post-impressionist style. (On the impact of this piece of music on classical guitarist, Buddy Wesley, of Morley, see my column for Oct. 20, 2012.)
And now, Lori the storyteller was translating her encounter with the star-spangled sky, van Gogh's imaginative interpretation of it, and McLean's musical celebration of sky and artist into her own words – artful, heartfelt words of an engaging conversationalist.
It soon became apparent that this interplay between experience, inspiration and imagination, like a gentle breeze on a longing campfire, was actually all about fanning the embers of each other's souls.
With parting hugs, we stepped back into our post-coffee-break worlds, determined to see the starry night with new eyes and to embrace the joy of life more fully than ever.
© 2013 Warren Harbeck
JoinMe@coffeewithwarren.com