Buddy Wesley, a man who's made a difference in my life
COFFEE WITH WARREN, with Warren Harbeck
Cochrane Eagle, October 20, 2010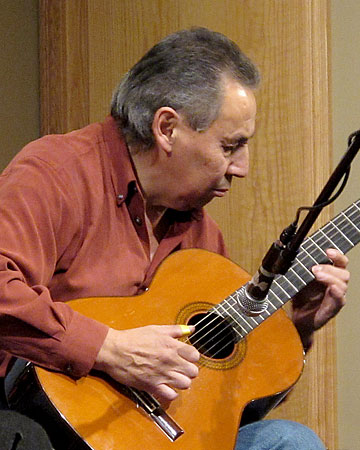 Buddy Wesley, a positive influence throughout the Bow Valley, held the attention of his Pickin' Party audience with his classical guitar rendition of "Starry, Starry Night," a tribute to local musicians who had died over the past year. Photo by Warren Harbeck
This past weekend's "Men Making a Difference" Men's Gathering at the Cochrane RancheHouse was a great success, but one man who has made a major difference in my own life wasn't there. He was busy making another weekend event in Cochrane its own success.
Lloyd "Buddy" Wesley, classical guitarist and emerging elder of the Stoney Nakoda First Nation at Morley, was helping coordinate the sixth annual Nakoda-Cochrane Pickin' Party, held this year at Cochrane Alliance Church.
But more about Buddy and that toe-tapping inter-community musical jam session in a moment.
First, a word of thanks to all the participants at the men's gathering which I promoted in recent columns. It provided me the opportunity to connect with so many who truly are making a difference in their families, community and the world – an inspiring time.
In particular, keynote speaker David Irvine, acclaimed author on authenticity, said something that really got me thinking. At the end of our life our Creator will ask us two simple questions, he said: "Did you enjoy the journey?" and "Did you help others enjoy the journey?"
This brings me back to the Pickin' Party and my friend Buddy.
Buddy has that wonderful gift of helping others enjoy the journey. I've known him since the late 1960s and watched the great-grandson of the famous chief Ta Otha develop into a respected outdoors guide and historical researcher.
It's his passion for guitar, however, and especially classical guitar, that has brought joy to so many, both inside and outside his community.
A trip to Spain a few years ago only enriched his love for the instrument and what he could do with it.
He rightly has earned his own place in the spotlight, but is more likely to be found gently helping others find their place in the spotlight.
Case in point? At the Pickin' Party, which I attended Saturday following the conclusion of the men's gathering, I first caught sight of Buddy while he was on stage. No, he wasn't the featured performer at the moment, but was sort of hidden in the shadows, behind one of the speakers of the PA system. There he was, providing beat accompaniment for the guitarist who was in the spotlight, helping make that performer sparkle.
Buddy was doing that thing for which he is especially respected: he was helping the other guy enjoy the journey.
But then Buddy had his own moment centre stage, too.
It was part of a tribute being paid to several longtime Pickin' Party participants who died during the past year. Buddy, classical guitar in hand, sat at the mike and introduced the piece he'd be playing: "Starry, Starry Night," composer Don McLean's amazing tribute to Vincent Van Gogh, the artist who suffered so much to bring beauty to so many.
Buddy, himself no stranger to adversity and grief, gave what must rank among his finest instrumental performances ever.
He lent new meaning for me to that part where McLean celebrates Van Gogh for his gift of bringing joy to others: "Weathered faces lined in pain / Are soothed beneath the artist's loving hand."
So, too, the struggling souls in the audience Saturday evening were soothed beneath Buddy's loving hand.
Îsnîyes, gichiwa'a.
© 2010 Warren Harbeck
JoinMe@coffeewithwarren.com