Cloud cover and imagination – but the kitchen sink, too?
COFFEE WITH WARREN, with Warren Harbeck
Cochrane Eagle, August 15, 2013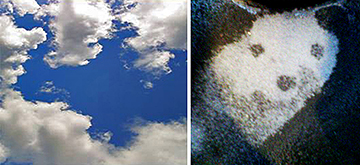 The clouds at left appear on the cover of Phil Minnaar's book, The Positive Dictionary, and speak of unlimited possibilities; the panda-like image at right appeared in Val Allan's sink after she discarded some sugar.
Photos, left, courtesy Phil Minnaar; right by Val Allan
Just imagine! Our coffee companions see so much great stuff in clouds that they want to keep this conversation going for yet another week. One of our readers even threw in the kitchen sink!
Cochrane author J. Neven-Pugh – her friends call her "Josie" – emailed me to say "the spell-binding power" of the clouds in last week's column reminded her of one of her favourite poems.
Indeed, John Gillespie Magee Jr.'s "High Flight" is a favourite of many of our readers. Its opening lines echo across "the sanctity of space" and time:
Oh! I have slipped the surly bonds of Earth
And danced the skies on laughter-silvered wings;
Sunward I've climbed, and joined the tumbling mirth
Of sun-split clouds . . . .
By the way, Josie, a Grade 12 student at Bow Valley High School, has slipped the surly bonds herself with the release of the second in her DragonTail Series of young adult novels, DragonWing: Take Flight, available locally at Bentleys Books.
Speaking of books, former Bow Valley resident Phil Minnaar, author of The Positive Dictionary, wrote from the West Coast:
"Your column reminded me of the day I, as a self-publisher, had to think about a cover design that would symbolise the theme and content of The Positive Dictionary. The book is all about the importance of a positive attitude towards life. The very first idea that entered my mind was to look upwards to the sky with its clouds."
The photo he chose for the cover, attached, featured clouds with "faces." (How many faces do you see?)
He also needed a motto for the book and settled on "The sky is the limit!"
"I realised that this expression originated when man became able to fly into the sky with planes," Phil said. It meant that people like pilot/poet Magee had, indeed, slipped the surly bonds.
For Phil, that motto affirmed that "the possibilities of achievement in life are unlimited."
This really is all about the power of unlimited imagination, which brings me out of the clouds and into the kitchen, as in our final response.
It was during a chat about imagination that I met Val Allan this spring at Cochrane Coffee Traders. Subsequently, she sent me a photo she had taken two years ago of an image that appeared in her kitchen sink. (She assures me that "the picture has not been doctored in any way.")
"I recycle as much as I can, and that includes sugar bags," she said. On this occasion, "to get the very last of the sugar out before putting it in the recycling, I shook it out into my kitchen sink. The sink was slightly wet, and I thought nothing of it until I looked back after a few minutes and couldn't believe my eyes."
Looking up at her was the image of a panda. "He was just too good to miss!"
She's emptied other sugar bags into the sink since then, she said, but has never got anything even vaguely like that panda.
Imagine that!
© 2013 Warren Harbeck
JoinMe@coffeewithwarren.com