Layered loveliness unites 'Fields of Gold' and marigolds
COFFEE WITH WARREN, with Warren Harbeck
Cochrane Eagle, May 15, 2013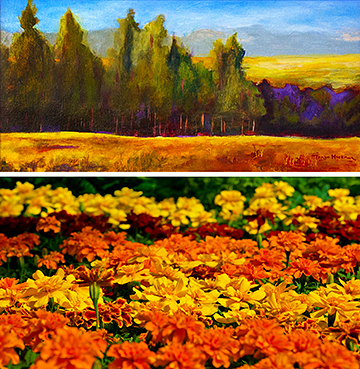 Tanya Hickman's "Fields of Gold," top, blends layers of autumn greens, yellows, oranges and hints of red echoed, bottom, in flats of marigolds at Anything Grows awaiting spring planting. Photos by Warren Harbeck
Click to view larger image
Springtime and harvest's eye-catching golden glory sparked my imagination recently when I visited two of my favourite places around town and an intriguing visual serendipity begged to be celebrated.
I had dropped by Cochrane Arts Central and just taken my usual seat in the corner by the coffee pot, when I noticed a painting by local artist Tanya Hickman.
"Fields of Gold," a 10 by 20-inch acrylic-on-canvas landscape, depicts the rich autumnal hues and contours typical of our foothills area. The more I looked at it, the more I was intrigued by the simplicity of its design: it was a study in layered loveliness.
For Tanya, producing her own art is something fairly new. Her professional background is in promoting the art of others. For example, as a fine-art agent, she was successful in getting works by Cochrane artists Hermann Brandt and Marla Blackwell accepted for this year's Calgary Stampede Western Showcase.
Tanya tells me the painting I was admiring was, for her, "a breakthrough on style, composition, and value," thanks especially to the influence of her mentor Marla, owner of Cochrane Arts Central. She's also grateful for Hermann's influence and that of her other instructor, Scot Paisley.
This golden landscape is actually a blending of two visual experiences in her life, she says. Yes, the Alberta foothills are front and centre, but she was also inspired by the wheat fields of Saskatchewan, where she spent her childhood "running through these waving fields of gold."
Ah, such evocative images!
Which brings me to my second visit, the one I paid the other day to Anything Grows Cochrane Garden Store.
I was strolling through their greenhouse when I noticed a pattern of golden hues that was nearly identical to the pattern in Tanya's painting – except this was spring, not autumn!
There, posing as pretty as could be for my camera, were flats of marigolds vibrant in their breathtaking vernal glory. They seemed to be longing to grace our gardens in celebration of the start of the growing season, just as "Fields of Gold" celebrates the end of the season – green, yellow, orange and red layers of golden loveliness to thrill the soul.
© 2013 Warren Harbeck
JoinMe@coffeewithwarren.com