Artist celebrates autumn with pigments of imagination
COFFEE WITH WARREN, with Warren Harbeck
Cochrane Eagle, October 19, 2011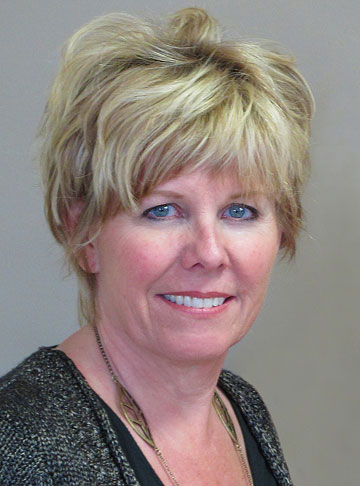 Marla Blackwell, owner of Cochrane Arts Central, celebrates the beauty of our area in her own works and in the achievements of other artists. Photo by Warren Harbeck
As has been my Monday morning routine for the past few months, I entered the brightly-lit shop on Fourth Avenue West, greeted Marla, and took my usual seat by the coffee pot in the cozy corner off to the left.
On the wall facing me hung an evocative painting of a stream in the woods. In another painting to my left, a bale of hay lay by the door to a weathered barn.
To my far right, across the spacious room, stood rack upon rack of hopeful hues: oil, acrylic and watercolour – pigments of imagination longing to answer the invitations to imagination coming from the yet-blank canvases on the shelves above.
Welcome to Marla Blackwell's Cochrane Arts Central. This is much more than a gallery, source for art supplies, and a comfy chair, however. Folks of all ages come here for art classes; some make use of the studio space for advanced projects.
Marla has a fascination with our fabulous foothills and beautiful Bow valley that inspires her not only to create her own popular works of art, but has motivated her to develop Cochrane Arts Central as a space where others can achieve their creative goals, too.
About her own paintings Marla says, "The colours and majestic formations that abound in this great country stir my inner passion, which I strive to portray in vibrant acrylic and watercolour."
I developed the habit of stopping by her shop at the beginning of each week as part of getting my head and heart in gear for writing these columns.
Even though I'm not a paintbrush artist, what Marla and her shop provide me is inspiration for what I can do as a writer – a metaphor for how the pigments of words can respond to the invitations from blank sheets of paper (or computer screen) to create something for my readers that, hopefully, like the paintings in her gallery, will speak of truth, goodness and beauty.
Speaking of beauty, Marla and her husband Rob have their home north of Cochrane in what has to be one of the most beautiful places in western Alberta at this time of year.
Thus, for the fifth year in a row, my wife and I gladly accepted Marla's invitation to her annual autumn art show and sale at her home this past Sunday afternoon. And yes, the setting was totally breathtaking, with aspens of gold glistening in the brilliant sun.
It was this golden quality that dominated the 27 paintings Marla exhibited. Her pigments and canvases love her imagination in capturing the essence of our rural West in the fall.
Over a hundred other viewers and buyers also enjoyed Marla's vibrant imagination, as well as the always-tantalizing finger food and beverages she served. By the end of the afternoon, only three of her paintings remained unsold – and I'm sure they'll be gone within days.
For my part, it's not just Marla's paintings that draw me to her autumn shows, however. It's also the creative quality of so many of her other guests, many of whom are artists in their own right or are seriously committed to promoting Alberta artists.
It was good to chat briefly with coffee companion Hermann Brandt, for instance. His landscapes and still lifes can be purchased at Cochrane Arts Central, as well as at Cochrane Coffee Traders, where on warmer days his fans can observe him painting on the front porch.
Glass artist Starr Kolb was there, too. She reminded me that her public show, A Stroll in the Country, is on Oct. 22 at her Glass Act Studio, 35051 Township Road 262, northeast of Cochrane.
And one final plug for another arts friend I visited with at Marla's. Kori Gregory, granddaughter of famous Alberta artist Roland Gissing, will have 18 original Gissing pieces from the estate on display and for sale this coming Sunday afternoon at the Historic Perrenoud Ranche Art Centre, northwest of Cochrane.
Thanks, Marla, for all your wonderful art, friends and hospitality.
© 2011 Warren Harbeck
JoinMe@coffeewithwarren.com