Six T's of a beautiful person: it's all about respect
COFFEE WITH WARREN, with Warren Harbeck
Cochrane Eagle, November 28, 2012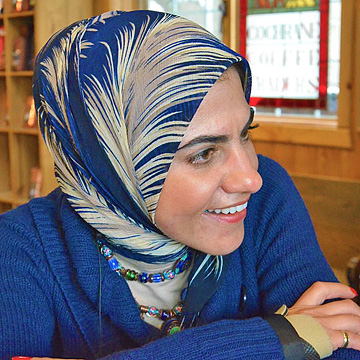 Dijla Al-Rekabi, brace on her wrist and wearing her customary scarf, had an unexpected encounter with respect during her recent surgery. Photo by Mark Bretherton
My companion at Cochrane Coffee Traders last week shared a hospitalization story about respect in words so inspiring that they should be celebrated in a dictionary.
Dijla Al-Rekabi, of Calgary, has become a familiar face around town. (See my columns for Mar. 14 and Aug. 8.) She's one of those captivating folks who can see in life's darkest moments rays of light and hope.
Such was the case once more as she recounted for local author/musician Art Norris and me intriguing details of her recent stay in a Calgary hospital for surgery on a broken leg.
Although this was her first time for leg surgery, she'd been under the knife for other matters on previous occasions. But it was her first time to experience the serendipity of having an anesthesiologist with an especially keen sense of humanity, she said.
While she was waiting to be taken into the O.R., the anesthesiologist, Dr. Mark Kostash, came by, introduced himself, and after asking the usual questions, asked if there was anything he could do for her, she said.
Surprised, she answered that, yes, would he make sure no one removed her hospital cap during surgery and in the recovery room. (Dijla always keeps her hair covered when away from home, usually with a scarf.)
"Will do! Anything else?" he replied.
Protectively wrapping her left hand around her right wrist, she explained to him that she wears a brace on her wrist because of chronic pain, but she knew it would be removed during surgery. "I wonder if you guys would be careful when moving my arm around!" she told him.
Dr. Kostash took her hands and placed them gently right on top of her chest and said, "How about I keep both hands right here?" Then she was taken into the O.R.
Four hours later she was awakened by a nurse's voice: "Wake up, princess! Don't you look lovely in green!"
"Huh? What is she talking about? The hospital gown is blue and white," Dijla explained. Then the nurse leaned forward and said, 'Dr. Kostash came to the recovery room and asked all of us not to remove your head cover, then he whispered a few words in your ear and left!' Then I remembered my wrist; I looked under the blanket, on my chest, and saw my left hand wrapping my right wrist and both resting almost exactly where Dr. Kostash said they would be! Then I checked whether the cap was still on. The cap was still on, and on top of it there was this lovely green surgical towel wrapped carefully and elegantly around my head covering all my hair."
Now, a month later, as Dijla concluded her story, she praised Dr. Kostash for the respect he showed to a total stranger. In her mind, he was a beautiful person, and she said so.
I asked her what qualities especially defined him as "a beautiful person."
He demonstrated humanity and humility in respecting her modesty, she replied. "He respected my dignity."
And that's when those at our table, almost as one, understood the three T's that, for Dijla, defined her anesthesiologist/angel as "beautiful." Three T's? Yup!
"Humani-T," "humili-T" and "digni-T."
Now, some days later as I've shared Dijla's story with a few others, the Three T's of a beautiful person have grown into six. Here's my latest list, organized alphabetically like entries in a dictionary of respect. (Note that I have not included on the list words like "celebri-T" and "prosperi-T"!)
Six T's of a Beautiful Person
Digni-T
Humani-T
Humili-T
Integri-T
Modes-T
Sensitivi-T
Any suggestions for other respect-related T-words for a beautiful person that can be added to this list, readers?
© 2012 Warren Harbeck
JoinMe@coffeewithwarren.com