Automotive junkyards reward reader with vivid stories
COFFEE WITH WARREN, with Warren Harbeck
Cochrane Eagle, March 14, 2012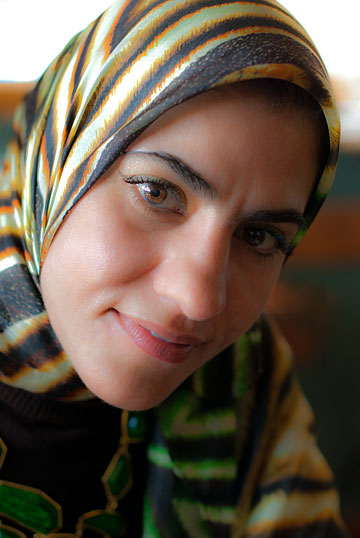 Iraq-born inter-cultural interpreter Dijla Al-Rekabi.
Photo by Warren Harbeck
Any car relegated to some junkyard anywhere in the world would love to have its story told by the charming woman who sat across from me at Cochrane Coffee Traders the other day.
Dijla Al-Rekabi, of Calgary, a Gulf War refugee who came to Canada in 1996 after fleeing Iraq, is a gifted public speaker, education consultant on Middle East culture, and frequent visitor to our foothills town.
A year ago she stole the hearts of the participants in a small monthly religious studies gathering I facilitate.
On that occasion, this indomitable "poster girl" for positive attitude shared the story of her life as a young Muslim woman raised in an education-affirming home, dismayed by the death of her brother, uprooted by war, and now a Canadian citizen grateful to the country that liberated her from life in a refugee camp in Saudi Arabia.
Which brings me back to my recent coffee chat with her.
Dijla was intrigued by the photos of the derelict car bodies that appeared in my past two columns. She, too, treasures discarded cars – so much so, that she loves visiting their cemeteries, those automotive junkyards where she sets about reflecting on their life stories and the liberation of their parts.
She shared with me why she is so passionate about those junkyards.
She became painfully conscious of cars in 1988 at the age of 11, she said, when, on the way home from Grade Six one day, she witnessed a silver car strike and kill a three-year-old boy with whom she'd been walking only moments earlier, then speed away.
When the Gulf War began in 1991, her mother banned her children from playing outdoors. Their only contact with the outside world was through a narrow gap at the bottom of the door. If they lay flat on their tummies, they could just see through it, she said.
"Soon we realized that there was nothing outside to look at except the highway. Our first game was counting cars passing by. Later we focused on their colours, until we finally decided to add a level of complexity to our game by guessing the make and model of each passing vehicle.
"After this, my knowledge about cars expanded," she said – along with memories of the 1980 Mercedes-Benz Miller LS 1924 truck that carried her to the safety of the refugee camp.
Now many years later, whenever she visits automotive junkyards, she's keenly aware that cars, like inhabitants of cemeteries, have their unique stories.
"At the yard, I see dead cars which were once important and valuable, a source of joy or sorrow, well- or ill-maintained, reliable or not. Though you have no idea who owned which car, items found in each car may still provide you with some information about their owners, just like the little info you get from gravestones.
"Recently, while visiting one of the junkyards, I couldn't help but think of the refugee camp I came from. Here, there are junk yards that are as big as the area the camp occupied – coincidentally, they're also surrounded by a metal fence. Visitors who come to the yard looking for parts are no different than visiting delegations offering a refuge to those in the camp.
"Sometimes I see women come to the junkyard with their husbands, brothers, or boyfriends. Though they have no idea about cars and what to look for, I'm often the one who's looked upon as the outsider. What does a Muslim lady in skirt and high heels know about cars?"
Well, this woman sitting across from me at the café table and decked out stylishly in Middle East fashion – a Mercedes-Benz engine mechanic, too, by the way – knows a great deal about cars, and even more about the beauty of liberated, story-filled, positive living.
Thanks, Dijla. I hope you publish the rest of the story behind your love affair with automotive junkyards real soon.
© 2012 Warren Harbeck
JoinMe@coffeewithwarren.com