Partnering with their dreams: a healing salve of hope
COFFEE WITH WARREN, with Warren Harbeck
Cochrane Eagle, October 3, 2012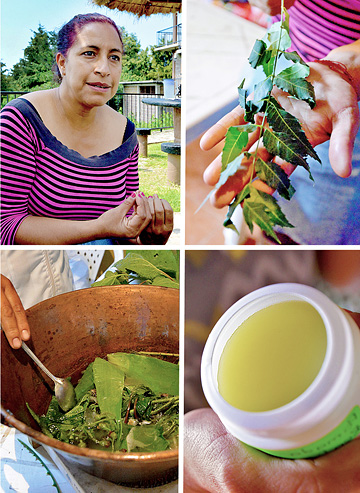 Rosy Acevedo, a wellness program facilitator with Fundacion Comunidad, Nepopualco, Morelos, explains the purpose and preparation of herbal ointments and other traditional remedies important to marginalized women in southern Mexico. Because of its health, economic and related social benefits, this is one of the humanitarian projects with which Mission Mexico has chosen to partner.
Photos by Warren Harbeck
"The future belongs to those who believe in the beauty of their dreams," said the late Eleanor Roosevelt, wife of U.S. President Franklin D. Roosevelt and activist for social justice.
The beautiful dreams of social justice are very much alive among many of Mexico's marginalized. But it's a real encouragement when others believe in those dreams, too – not out of pity, but in a spirit of hope-affirming, respect-based partnership.
In last week's column I wrote about my wife's and my recent trip to Cuernavaca, Mexico, as representatives of Mission Mexico, a humanitarian outreach of southern-Alberta Catholics. We were there to experience some of the dreams of that country's downtrodden in their struggle to assert the value of their often overlooked lives. We returned home firm believers in those dreams.
In addition to the kindergarten program of which I wrote, there were other dreams that captured our imaginations.
For example, we visited one working-poor family who recently installed a cistern at their concrete-block home, thanks to financial assistance through Mission Mexico for materials. The family's teenaged son even serenaded us with his rendition of John Lennon's "Imagine":
You may say I'm a dreamer
but I'm not the only one
I hope someday you'll join us
And the world will be as one.
And yes, this family was grateful we in Canada had indeed joined them in their dream.
Then there was that day trip to Nepopualco, Morelos, where our partnership in the dreams of one group literally resulted in a soothing salve.
Nepopualco, a rustic town east of Cuernavaca, is famous for its natural beauty. It's also home to Fundacion Comunidad, a women's wellness program which Mission Mexico helps fund.
Marginalization of women in Mexico is no secret. A cultural mentality of machismo has long held many women back from educational and professional opportunities. This, combined with sexual abuse, limited language skills and poor self-image particularly among members of Mexico's indigenous communities, has taken its toll.
Fundacion founder Gabriela "Gaby" Videla, our host that day, explained that their purpose is "to support the local efforts of poor people to improve their lives." This builds on grass-roots economic and cultural initiatives. Among those initiatives are projects validating traditional roles of elders, ancestral languages and herbal knowledge.
Rosy Acevedo, a program facilitator, took us through the preparation of one kind of aromatic herbal healing ointment, from the selection of the right plants through their blending and simmering.
The finished product provides a fitting conclusion to this week's column, I think. Like that scented salve, our partnerships in the beautiful dreams of the marginalized, too, can serve as a fragrant balm . . . of hope.
© 2012 Warren Harbeck
JoinMe@coffeewithwarren.com