Experiencing their dreams: about partnership, not pity
COFFEE WITH WARREN, with Warren Harbeck
Cochrane Eagle, September 26, 2012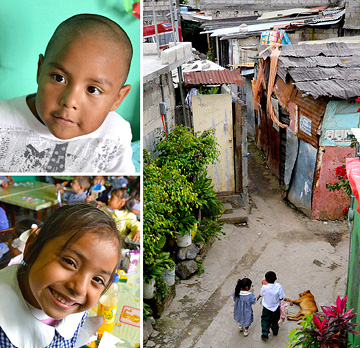 Residents of La Estacion, a shantytown within Cuernavaca, Mexico, have partnered with Albertans, including many from Cochrane, to realize their dreams for a better future for their children. Kindergartners, at left, enjoy improved facilities, hot breakfasts and happier teachers. After school, right, they return to their homes. Photos by Warren Harbeck
The moment we entered their kindergarten classrooms, we were embraced by happy kids rich in spirit. Then, as school let out, we watched those same kids return to their homes – shacks of scrap wood and metal, symbols of their material poverty.
My wife, Mary Anna, and I were visiting La Estacion, a shantytown within Cuernavaca, the "City of Eternal Spring" (pop. 700,000) an hour south of Mexico City.
We were there recently as representatives of Mission Mexico, a humanitarian outreach of southern Alberta Catholics founded right here in Cochrane a dozen years ago by Fred Monk, then-pastor of St. Mary's Church.
Our host during our six-day stay was the Cuernavaca Center for Intercultural Dialogue on Development (CCIDD), an ecumenical awareness-building retreat. Special thanks to its director, Sister Kathy Long, for facilitating our experience of a number of projects supported by Mission Mexico, including the kindergarten program at La Estacion.
While in La Estacion, we met with a group of parents and one of their university students.
They wanted to thank us back here in Canada for our part in providing improved facilities and services for the 135 children now attending kindergarten. They especially mentioned the hot-breakfast program and related training in food-preparation for mothers.
They also mentioned our help with teachers' salaries and bursaries for their older children attending university.
Attending university? To give some a one-way ticket out of La Estacion?
No way, the university student quickly pointed out.
They are committed to their community, she said. They have a dream, not of fleeing and abandoning their parents and neighbours, but of improving life for them where they are, thus showing gratitude for all their care and hard work.
Theirs were not stories of addiction to pity and dependency, but of dreams for a better future for all. In these we in Alberta are privileged to be partners.
More such dreams next week. Stay tuned.
© 2012 Warren Harbeck
JoinMe@coffeewithwarren.com