Sky-blue palettes, giant June snowflakes, PEI sunsets
COFFEE WITH WARREN, with Warren Harbeck
Cochrane Eagle, June 20, 2012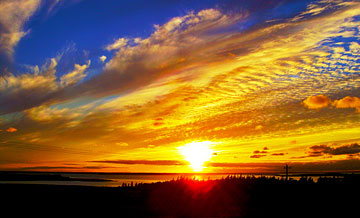 Former Cochrane resident Joan MacRae captured this "eye-candy" sunset from her balcony on P.E.I.
Photo by Joan MacRae
I'm not the only one who loves to look up and see the beautiful sky, if responses to last week's column are any indication.
Calgary artist Doug Driediger, a fan of Cochrane coffee shops, wrote:
"I especially liked this column, as my whole adult life I've 'envied' the beauty of God's 'watercolours' up there. My kids, long ago, bought me a picture book for Father's Day that told the story of a frustrated painter who finally got the opportunity to paint the sky – the real one! – each day as a gift from God when he arrived in heaven. An eternity of wet-on-wet, or dry brush, or big-wristed wash. Fantastic!"
From his home upstream from Cochrane, Pius Rolheiser emailed us about a mid-June Alberta experience I'm sure will amuse our coffee companion Raj Patwardhan, in Mumbai, India.
"Saturday morning (June 9), we were treated to a major snowfall in Canmore," Pius wrote of the joy of looking up.
"I sat at my breakfast table for a long while just looking out the window and up at the sky, watching millions of snowflakes materialize, one after another, out of the grey. I've seen snow before, but I don't think I ever watched it with such awe and admiration. Maybe it's because it came in June and I knew I wouldn't have to shovel it, or maybe it's because some of the flakes looked as big as pie plates as they materialized and floated around. Or maybe God just wanted me to recognize how beautiful snow is."
Looking skyward out her window has certainly engaged the imagination of a longtime wheelchair-bound Edmonton reader. Barbara Stevens, recovering from hip replacement, wrote:
"Your column meant a lot to me, Warren. 'Over the Rainbow' and 'What a Wonderful World' are two of my favorite songs, and I was humming them while I read what you had written. Since my recent surgery, I spend several hours a day in our bed where there are three long windows looking out into our yard – our yard that has become my 'wonderful world.' I can listen to the birds and the rustling of the leaves in the wind. Above the green canopy is the sky – the ever-changing sky, with its shades of blue, the fluffy white clouds, and the deepening of the colours into night."
Deepening colours? What a perfect segue into our final letter for this week from a former Cochrane resident, enthusiastic Maritimer Joan MacRae.
Many of you will remember Joan's artistic contribution to our community some years ago when she co-produced (with Elsa Peterson) the Vision Theatre Players Guild production of On Golden Pond.
I did one of my columns back then on her nostalgic treasure, an old milk can embellished with a painting of her grandparents' home near Malpeque Bay on Prince Edward Island.
Speaking of P.E.I., Joan's up to her artistic tricks again, this time with a photo she took of a breathtaking sunset from the balcony of her summer cottage in the land of Green Gables.
"This is our eye-candy view," she said. "I try and get home in time for the sunsets, and sometimes friends visit in the evenings just to have a drink and sit on our deck to watch the ever-changing beauty!"
Thank you all for inspiring us to keep on looking up and savouring the heavenly grandeur overhead.
© 2012 Warren Harbeck
JoinMe@coffeewithwarren.com