I spied with my little eye and what did I see up high?
COFFEE WITH WARREN, with Warren Harbeck
Cochrane Eagle, June 13, 2012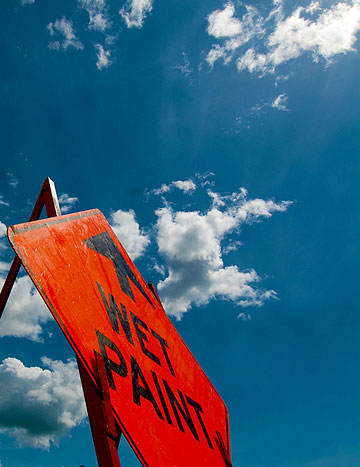 The sign along the road evoked azure lines from "Over the Rainbow" and "What a Wonderful World." Photo by Warren Harbeck
YES! There it was, so long in coming. And there was even an arrow pointing to it. What a thrill!
I was approaching the intersection of Fifth Avenue and Railway Street West in Cochrane Monday morning when I came across a bright orange sign along the curb. It bore just two words, "Wet Paint." Above the words was an arrow.
I followed the arrow to where it was pointing. It was actually drawing my attention straight up to . . . blue sky!
After so many cloudy gray days and heavy rains causing the Bow River to overflow its banks, what a treat it was to see the Master's artwork on the freshly painted heavenly canvas above: beautiful blue sky, with just a hint of fluffy white clouds to make the blue stand out.
It reminded me immediately of lines from this column's unofficial theme song by Robert Thiele and George David Weiss made famous by Louis Armstrong:
I see skies of blue, and clouds of white
Bright blessed day, dark sacred night
And I think to myself
What a wonderful world.
It also reminded me of another, closely related, song that was still echoing through my mind from the evening before.
I had been at the home of coffee companions Michael and Judie Bopp, who reside in the foothills northwest of town. At one point in the always-inspiring visit, they played a medley of "Over the Rainbow" and "What a Wonderful World" by Hawaiian entertainer, Israel KamakawiwoʻOle, popularly known simply as "IZ."
I'm awed by IZ's pairing of "Over the Rainbow" with "What a Wonderful World," both of which celebrate the beauty of blue.
"Over the Rainbow," by Harold Arlen and E.Y. Harburg, has grabbed the attention of millions since its performance by Judy Garland in the 1939 film, The Wizard of Oz.
Remember those great lines?
Somewhere over the rainbow,
Skies are blue
And the dreams that you dare to dream
Really do come true.
IZ varies his lyrics slightly to emphasize what my wife has long seen as pieces of blue sky flitting among the meadows. Instead of singing "skies are blue," he substitutes words from later in the song: "Somewhere over the rainbow, bluebirds fly."
The ukulele-strumming musician passed away in 1997, but his cultural and musical legacy is very much alive. All one needs do is check him out on YouTube. (You can access a video of the medley by clicking here.)
Monday morning, with the upward-pointing sign and IZ's arrangement still very much in my thoughts, I stopped in at Cochrane Coffee Traders, where I bumped into my composer friend, Allan Bell.
When I told the esteemed University of Calgary professor of music about my blue experience, he asked me whether I knew that the ancient Greek poet Homer never mentions the colour blue in his epic works, The Iliad and The Odyssey. (Even when Homer mentions the colour of water, it isn't blue, but "wine-dark.")
No, I said. In fact, I didn't know Homer never mentions the colour blue, in spite of having spent one whole semester years ago struggling to read his two masterpieces in the original Classical Greek.
It's all about having a "conceptual framework," Allan said, and he directed me to a radiolab.org podcast titled, "Why Isn't the Sky Blue?" But more about that another time.
I will say this, however: My recent encounters with blue have a great deal to do with imagination. As the late U.S. Senator Robert F. Kennedy is often quoted as saying: "Some men see things as they are and say why? I dream things that never were and say why not?"
With that in mind, then, I'll close with a special word of thanks to Cochrane's artistically alive road crew for placing that orange sign there in the first place, so I would be sure to engage my imagination, look up, take in a sky-blue day, and exclaim: Yes, what a wonderful world!
© 2012 Warren Harbeck
JoinMe@coffeewithwarren.com