Walking Buffalo's surprise welcoming of YMCA campers
COFFEE WITH WARREN, with Warren Harbeck
Cochrane Eagle, August 25, 2010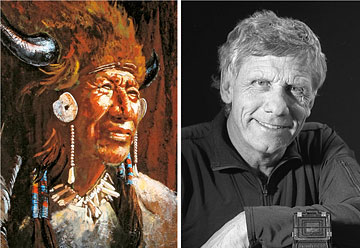 Stoney Nakoda goodwill ambassador George McLean, Chief Walking Buffalo, 1871–1967, left, appears in his signature buffalo head regalia in the painting, Tatanga Mani – Walking Buffalo, by David Lloyd Fisher © 1967. Calgary-area writer and photographer Jack Blair, right, was regaled with stories by the globetrotting chief 50 years ago while on a YMCA overnight campout.
Painting courtesy of James Daubney; photo: Jack Blair
He sat down at my table and reflected on the confluence of two memorable journeys from a half century ago: his own YMCA canoe voyage down the Bow River, and Stoney Nakoda Chief Walking Buffalo's goodwill trip around the world.
Coffee companion Jack Blair is a creative photographer and essayist from Calgary. The frequent visitor to Cochrane Coffee Traders had read my Aug. 11 column on the late Jimmy Kaquitts, the guitar-strumming rodeo cowboy who helped develop a writing system for his Stoney Nakoda language spoken at Morley, and wanted to share with me the heart-warming story of one of his own encounters with the Stoney community.
The summer of 1960 Jack was a counsellor at the YMCA Camp Chief Hector, located back then on the present site of the Nakoda Lodge west of Morley. As part of the program, he took his tepee of older boys on excursions away from camp.
One particular excursion was a canoe trip down the Bow River from upstream of Morley, across the Ghost Reservoir and up the Ghost River. There were about 15 campers and three counsellors in his group.
Late afternoon the first night out, by special arrangement with the Stoney Tribal Council, they pulled up their canoes along the south shore of the reservoir and, using tarps, pine boughs and moss, set up camp on a little peninsula sheltered from the wind and waves.
"It is very pretty on that side, and the lake water runs up the valleys where the walls are steep and wooded, almost like miniature fjords," he recalled.
While supper was cooking, they were visited by two young men from the Stoney community. They joined the campers for the meal and, after a friendly chat with the counsellors, left.
"As dusk was falling, one of the young men came back to our camp and asked us if we wanted to come up the hill and visit Chief Walking Buffalo. Completely by chance, we had camped just below his house. The one stipulation was that all the campers must come along. We knew a bit about Walking Buffalo, as he had recently returned from a round-the-world goodwill tour with Moral Re-Armament" (MRA, known now as Initiatives of Change).
"It didn't take us many seconds to realize this was a great opportunity," Jack said.
Walking Buffalo lived in a cozy log cabin with a strong smell of wood smoke that reminded Jack of the smell of the moccasins his father used to buy him every winter.
The 89-year-old chief welcomed the young travellers, offered them tea, then regaled them with accounts of his own 62,000-mile journey.
He spoke of his visits to 18 countries, pleading with world leaders to listen to the still, small voice of the Great Spirit within them and to conduct their affairs according to principles of honesty, purity, unselfishness and love. He also shared stories about his family and youth.
"All of us were completely enthralled. We walked back to our camp in the dark, flashlights flickering through the trees and the sound of all of us whispering to each other what we had just experienced.
"It was a magic evening, one that I'll never forget," Jack told me as he finished his coffee.
To experience some of Jack's outstanding photography and writing, check out his website, jackblair.ca/JTB/Photography_Home.html.
To learn more about Walking Buffalo's legacy, visit the Spirit of the Land and People exhibition at Banff's Whyte Museum of the Canadian Rockies, running till Oct. 10 as part of Banff National Park's 125th anniversary.
For an account of my own introduction to Walking Buffalo, see my column of May 16, 2007.
© 2010 Warren Harbeck
JoinMe@coffeewithwarren.com