Summertime is happy time among Stoney Nakoda people
COFFEE WITH WARREN, with Warren Harbeck
Cochrane Eagle, August 11, 2010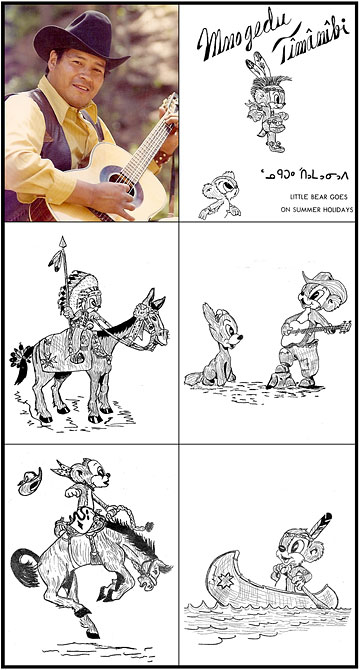 Clockwise from upper left: the late Jimmy Kaquitts around 1970 and some of his drawings from Mnogedu Tîmânîbi: Little Bear Goes on Summer Holidays: cover; Little Bear serenades his dog; Little Bear goes canoeing; Little Bear competes in the saddle bronc event; and Little Bear takes first prize in the Stampede parade. Photo by Warren Harbeck, drawings by Jimmy Kaquitts
Back in the early 1970s Lobo recorded his popular love song, Stoney (www.youtube.com/watch?v=hHTK0U8FGx4). It came close to becoming the national anthem of the Stoney Nakoda First Nation at Morley.
And why not? Its refrain says it all:
"Stoney, happy all the time / Stoney, life is summertime / The joy you find in living every day / Stoney, how I love your simple ways"
That's exactly how I've experienced summertime in my 45 years among the Stoney Nakoda community.
Actually, it was a jovial chap from Morley who clued me in to the joys of summertime among his people long before Lobo's song even appeared.
The late Jimmy Kaquitts, a guitar-strumming rodeo cowboy, cartoonist and cultural interpreter, was a member of a team of Stoney speakers developing a writing system for their Nakoda dialect of Sioux.
They experimented with several systems, including syllabic and Roman, eventually settling on an alphabet similar to English. In the process, Jimmy wrote and illustrated a booklet to show how two variations of the Stoney writing system worked in practice.
Mnogedu Tîmânîbi: Little Bear Goes on Summer Holidays was an immediate hit.
It consists of 24 delightful moments in the life of Ozîjan, "Little Bear," the bright-eyed star of the story, beginning with his last day of school before summer holidays.
He goes bicycling, logging, canoeing, swimming, fishing, and hunting. And not unlike Jimmy himself, he enjoys horseback riding and even serenading his pet dog, Sichu, on whom he also tries out some of his latest rodeo skills.
Ah yes, rodeo. Ozîjan loves rodeo and Indian Days. In fact, he'd have been right at home at last weekend's very successful Stoney Nakoda Banff Indian Days.
Halfway through Jimmy's story, Ozîjan goes to sleep and has a dream. He sees himself camped at the Calgary Stampede decked out in feathers and buckskins, dancing and taking prizes. He also participates in the wild horse race and steer decorating events. But when he goes for the saddle bronc event, his cinch breaks and he falls off the horse. That's when he wakes from his dream, only to discover he's just fallen out of bed.
Yup, Jimmy really captured so much of the thrills and spills of summertime in Stoney Country. He went on to become director of the Stoney Cultural Education Program (SCEP), the harbinger of many groundbreaking initiatives in Stoney Nakoda language, culture and curriculum.
He passed away some years ago, but his wit and wisdom live on, proof of Lobo's praise, "Stoney, life is summertime." (For more memories of Jimmy, see my column of Oct. 11, 2006.)
© 2010 Warren Harbeck
JoinMe@coffeewithwarren.com