Photographer shares empowerment of seeing with new eyes
COFFEE WITH WARREN, with Warren Harbeck
Cochrane Eagle, August 19, 2009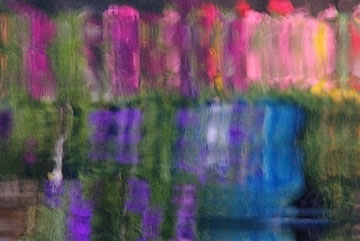 Imaginative photographer Courtney Milne captures mystical moments at his poolside, such as this reflection of flowers, and shares them worldwide in his daily emailed series, Pool of Possibilities. Photo by Courtney Milne
The splash of colour that arrived with my Aug. 4 email reminded me afresh of the beauty of seeing with the eyes of the soul. It was one of a series of photographs I receive daily known as Pool of Possibilities, created by renowned mystical photographer Courtney Milne and exploring the moods and wisdom emanating over the space of a year from his aspen-rimmed pool in rural Saskatchewan.
This day's image featured a wash of vibrant flowers stretched, twisted and played with by the undulating reflective swells of the pool's water. The lesson from the reflection? The empowerment of ambition and the pursuit of excellence. But more about that in a moment.
My subscription to the series was a gift from photographer-priest Fred Monk (see my Feb. 18 column).
"I was so taken with the beauty of his images and his thoughtful reflections that I wanted to share it with you," explained the former pastor of St. Mary's Church in Cochrane. "Every image he shares with us tells us something about his own inner beauty."
But Courtney's inner beauty has not come without struggle. One wintry night 34 years ago, in turmoil over the failure of his first marriage, he was about to throw himself into the river. Fortunately, the ice was too thick. So he went out for a coffee, instead. There he heard a voice deep within telling him to move to a rural cabin and immerse himself in truly seeing, a journey that ultimately resulted in his publishing 12 books of fine-art photography, including The Sacred Earth (1993), as well as his poolside interpretations.
His passport for the journey has been his camera, his licence to see with new eyes. Seeing with new eyes, he says, "is really about being aware of where and how we focus our attention, and approaching the world more deliberately."
Which brings me back to his poolside reflection for Aug. 4 and its emphasis on ambition.
"With each successive swell the pool water seemed to gain in ambition," he notes in the Poolside Wisdom for the day. "What was it trying to improve on? It already had achieved magnificence as it continued to impress me with its dynamic artistry."
Here he sees an instructive tension between a noble and ignoble attribute. Struck by the determined radiance of his pool that day, he concludes the desire to succeed "ought to be supported, unless it is at the expense of another. . . . If the anticipated outcome is a win-win, with a desire to enhance the common good, then ambition is a worthy pursuit."
In Courtney's own case, ambition is indeed a worthy – and empowering – pursuit. During the past year he has faced a new struggle: multiple myeloma, a type of bone marrow cancer that has left him without sensation and movement from his mid-chest down. Even this, however, has not deterred him from seeing with the eyes of his beautiful soul and sharing with the rest of us the joy of what he sees.
For more about Courtney Milne and his Pool of Possibilities, go to www.courtneymilne.com.
© 2009 Warren Harbeck
JoinMe@coffeewithwarren.com