Photographer/priest celebrates the Invisible in visible
COFFEE WITH WARREN, with Warren Harbeck
Cochrane Eagle, February 18, 2009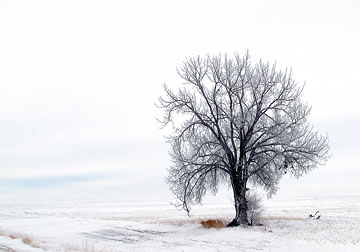 Above: A solitary tree in a frozen field speaks to the sometime loneliness of our human journey, says photographer/priest Fred Monk, formerly of Cochrane. Below: But the wind-etched snow counters with the assurance of God's Invisible Presence, shaping us but never abandoning us. Photos by Fred Monk. (Click on photos for larger versions.)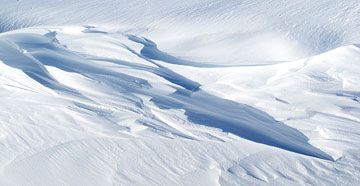 Fred Monk, priest and outstanding photographer, served as pastor of St. Mary's Catholic Church in Cochrane from 1998 to 2007, when he was transferred to rural parishes in Bow Island and Foremost, in southeastern Alberta (see my column of July 25, 2007).
There his camera looks out on new horizons: flat prairies instead of towering mountains; pronghorns, sunflowers, and sugar beets, instead of elk, mountain lilies, and coniferous forests.
Amidst all the differences, however, one thing remains constant: the experience of the sacred in the everyday.
"Every photograph tells a story and each story reveals something of the mystery of God," the photographer/priest says.
Take the prairie wind as it plays with winter's snow, for example.
His recent image of a tree standing alone in a frozen field between Bow Island and Foremost could suggest abandonment. But nearby snowdrifts point to the invisible presence that never abandons – the unseen wind that shapes the visible community of countless snow crystals into unified works of art; the same hope-filled wind that promises the longing tree its first leaves of spring. (How interesting it is in biblical tradition that the words for wind and Spirit are one.)
"I see my images as photo-parables – simple stories that lead me to see beyond the image to a much deeper reality," he says, noting that even in our loneliest moments, we are not alone; God is with us, invisibly but surely.
"Photography allows me an opportunity to express my gratitude, not just for the gift of the beauty I see through the lens, but also for the Giver."
To see more of his photo-parables, go to fredmonk.zenfolio.com.
© 2009 Warren Harbeck
JoinMe@coffeewithwarren.com