Forgotten lawn sprinkler creates crystalline fantasy land
COFFEE WITH WARREN, with Warren Harbeck
Cochrane Eagle, April 14, 2016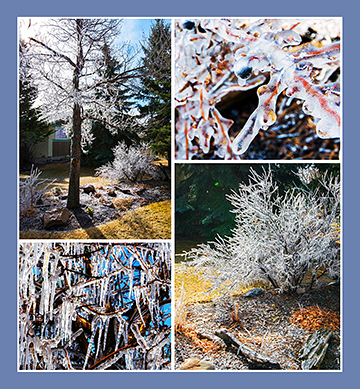 A Cochrane family saw their yard transformed into a springtime crystalline fantasy land after they accidentally left their lawn sprinkler on overnight when outdoor temperature dropped briefly below freezing. Photos by Warren Harbeck
Click for a larger version
For days we'd been enjoying warm spring weather here in Cochrane, perfect for getting the year's lawn care underway. But none of us were prepared to wake up last Friday morning to the glorious garden art that had emerged overnight courtesy of one of our neighbours.
The family had accidentally left their sprinkler on when they retired for the night.
Now, if the air had stayed as warm as it was when they retired, their forgetfulness would have resulted in nothing more than a very soggy lawn.
As it turned out, however, the pre-dawn temperature had dropped briefly below freezing – just cold enough to create a very photo-friendly crystalline fantasy land.
From where I was standing when I first saw this serendipitous masterpiece, the low angle of the morning sun had etched trees and shrubbery branches against their darker background as if an artist had sketched them in the whitest white against a background of black or very dark green.
The sprinkler had baptized branch after branch, converting them into filigrees of faith, aglow with the dawn of a new day and radiating the hope-filled sun. The trees, right down to their finest branches, were decorated with backlit icicles that would make any Christmas tree envious. The bushes, many still bearing reminders of last autumn's fruit, were glazed in glory.
By noon, however, the sun's warm rays had reduced this accidental artwork to a few small islands of ice crystals that had fallen to the ground, where they lay amidst the already-greening grass.
Oh, I'm so glad my camera has a good memory!
I'm also glad for a lesson the crystalline fantasy land offers for our lives together in this surprise-filled world of competing religions in which walls of ignorance too often blind us to the beauty within our common humanity.
A free public panel discussion will be held April 19, 7:00 PM, at the Cochrane RancheHouse. Speakers representing Hinduism, Aboriginal spirituality, Judaism, Christianity, Islam and the Bahá'í Faith will discuss "Building Bridges of Mutual Respect and Goodwill."
This is the 8th Annual World Religions Conference in Cochrane organized by the Ahmadiyya Muslim community. Once again, I've been asked to be moderator. (Note my Apr. 16, 2015 column.) See you there.
© 2016 Warren Harbeck
JoinMe@coffeewithwarren.com