Mixed media quartet sing in perfect harmony at Just Imajan
COFFEE WITH WARREN, with Warren Harbeck
Cochrane Eagle, April 7, 2016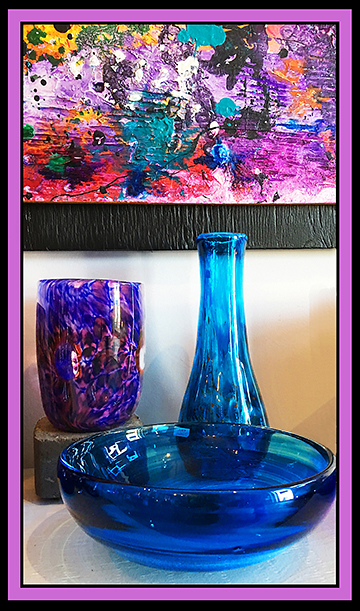 Colours of blown glass by Hank Duff and acrylic painting by Errol Lee Fullen sing harmoniously together at Just Imajan Art Gallery & Studio. Photo by Warren Harbeck
I love the way colours and media of different heritages sing so delightfully together, as they were just last week when I caught an ensemble of them performing in perfect harmony at Just Imajan Art Gallery & Studio in Cochrane.
Mary Anna and I visit Janet Armstrong's kid-dog-and-ice-cream-friendly gallery on 1st Street and 3rd Avenue West whenever we have a chance. Its selection of landscape, wildlife, rural and abstract works by more than 35 local and national artists – many by Janet herself – never ceases to inspire us in our own pursuit of beauty in all that we are and do.
In fact, one of the pieces from Just Imajan is hanging in my office right now, just over my right shoulder, to remind me of that pursuit as I write this column.
The collaborative work between Janet and another of my favourite people, Jack Tennant, founder and original publisher of the Cochrane Eagle newspaper, is a 25-by-39-inch colourized black-and-white photo of an abandoned old car body resting among a stand of poplars. Janet had enhanced one of Jack's photos by painting the car body blue and the grassy carpet green.
The image recalls for me an old Stoney Nakoda proverb: "Nîbi ne dohâ ptenâ wanch" – "This life is very short." Implication? Use the brief years of our lives wisely. (See my column for Feb. 29, 2012.)
With a similar positive outlook, last week's visit to Just Imajan held an especially inspiring surprise for Mary Anna and me.
Along the wall to the right upon entering, visitors are welcomed by a magnificently arranged display of paintings and sculptures, including the acrylic abstract series "Sun & Storm" by Errol Lee Fullen and blown-glass sculptures by Hank Duff.
Errol is a fulltime artist whose celebration of colour in his "Sun & Storm" series is nothing less than exuberant. The series features seven long, narrow pieces – typically 13 by 48 inches, both horizontals and verticals – that hang together just perfectly.
Hank sees glass as a medium especially suited to his fascination with transparency and fluidity, with a touch of humour. The artist, more formally known as cardiologist Dr. Henry Duff, contributes the proceeds from sales of his work to the Heart and Stroke Foundation.
After browsing among the gallery's recently re-arranged collection, Mary Anna and I were about to leave when a detail from Errol's and Hank's works caught my eye. When I looked more closely, a quartet of their physically different pieces appeared to be singing together in harmonious, photogenic colour cohesion.
They reminded me of words from Billy Davis's popular song from the 1970s: "I'd like to teach the world to sing in perfect harmony."
By the way, if you'd like some art lessons, Janet has teamed up with Cochrane landscape artist Marla Blackwell to offer classes. Also, from time to time, you can observe various artists at work at Just Imajan.
So, pigment by pigment, stroke by stroke on the canvas of life, perhaps more of us can help the world sing in perfect harmony.
© 2016 Warren Harbeck
JoinMe@coffeewithwarren.com