Two inspiring Cups of Light on a very cold day in Cochrane
COFFEE WITH WARREN, with Warren Harbeck
Cochrane Eagle, January 14, 2016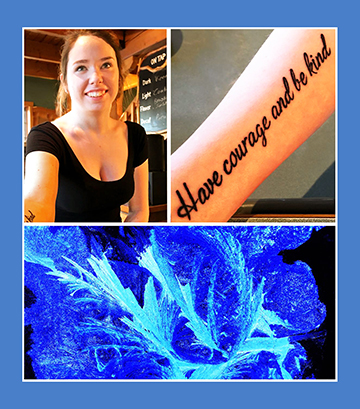 Barista Jamie Sand serves me my usual Saturday lunch-hour cup of light at Cochrane Coffee Traders and serendipitously helps me understand a fine work of art I'd encountered at Guy's Café and Bakery earlier that –20°C day. Photos by Warren Harbeck
I have a Saturday morning tradition that includes a 10:15 AM visit to Guy's Café and Bakery in Cochrane and a lunch-hour visit to Cochrane Coffee Traders. This past weekend baristas in both locations served me my usual small cups of light. But this time, they also served me two very inspiring Cups of Light for the soul, with the second Cup helping me savour the first Cup.
I'd completed my morning's email around 10:00 AM and bundled up to drive over to Guy's Café. When I opened the outside door and took one look at my car's windshield, however, I was beginning to have second thoughts.
That morning's –20°C temperature had left a frightful layer of frost for me to scrape off. I was not amused, but Guy Joudrey's light roast was just too good to pass up.
Ten minutes of scraping later, I was finally on my way, but definitely not too thrilled about how the day was beginning.
After reading the newspaper over my morning cuppa, I prepared to leave Guy's and head home. But just as I approached the door to the parking lot, I noticed a most unusual work of modern art featuring feathery strokes and plumes. It was about 24x12 inches and was mounted right on the bottom of the glass door!
It was frost! (And yes, I couldn't resist taking the accompanying photo, which I've enhanced only by cropping and intensifying the contrast and hue.)
At lunchtime my wife and I paid a visit to Coffee Traders. The always-cheerful Jamie Sand was serving us and, without my even saying a word, placed my usual half-cup of light before me.
As she did so, I noticed some writing on her arm and asked her if I could have a better look. She accommodated my request with a smile. Then I realized the lesson of the frosty art from earlier that morning.
Her tattoo read very simply: "Have courage and be kind."
Without realizing it, Jamie helped me comprehend the intimate relationship between kindness and beauty nurtured by hard times. That exquisite work of frosty art would not have been possible had it not been for the frightfully cold temperature.
The Divine Artist had used temporary pain to teach timeless truth – a lesson for all of us to courageously embrace the struggles in our lives as birthing beds for beauty expressed in kindness, mercy and love.
© 2016 Warren Harbeck
JoinMe@coffeewithwarren.com